Androids and Sex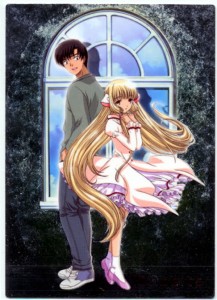 The Houston Chronicle has discovered that by 2050, we'll have androids that will seem very lifelike and for which one can have sexual relations with.
Really?
The article mentions the quiet Japanese research into this very thing and I'm thinking, "Wow. Let me think of how many titles I've seen or read where androids have been life-like enough to spend QT with."
Hmmmm.
Chobits. Mahoromatic. Negima! (Manga.) Hand Maid May. Hand Maid Mai (not a mispelling). Armitage III. Boku no Marii. All Purpose Cultural Cat Girl Nuku Nuku. Saber Marionette J (and its sequels). El Hazard (I may be assuming some things there, but oh well). There may be more, but that's all I could think of off the top of my head.
I guess this means that those of us who watch anime are ahead of the curve when it comes to future tech stuff, eh?