フェイト/ステイナイト Ep 06
Fate/stay night episode 06
SPOILER Summary/Synopsis: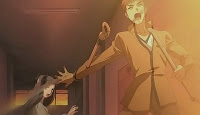 Rin's attack inside the classroom eventually forces Shirou out. She demands he hand over his three command spells or die. He refuses but before Rin can act, a girl screaming is hear. Shirou leaves to find the source followed by Rin. They find an unconscious student on the floor, whom Rin says has had her life energy drained in order to give a Servant more power. Rin says she can help. She requests Shirou close the door when a thrown spear emerges. Shirou has it stab his arm rather than hit Rin, the intended target. The sort spear disappears and Shirou asks Rin to heal the girl while he deals with this threat.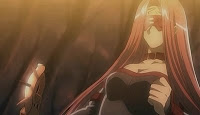 Shirou thinks he hears Shinji and soon discovers a Servant with a chain in the nearby woods. She attacks Shirou and he's able to fend her off for a bit. The Servant is interested that Shirou won't use a command spell to summon Saber. Shirou figures that this Servant must be a weaker class, so she decides to prove him wrong and reveals that the spear is still embedded in his arm and attached to a chain. She uses this to have Shirou hanging from a tree. As he tries to free himself, the Servant moves in for the kill, only to be attacked by Rin, who manages to cut the chain connecting Shirou to the Servant.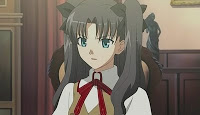 Rin gets Shirou safely to her home after bandaging him up. His injury is mostly healed, which amazes Rin. She cautions Shirou about this as if Shirou is taking mana from Saber, he is weakening her. Rin makes a truce offer to Shirou to find this Master of "Rider," the Servant that attacked them earlier. She warns him that this is not an alliance but as Shirou says, "the enemy of my enemy is my friend."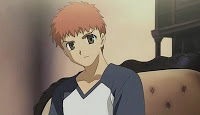 Rin orders Archer to escort Shirou safely home. Along the way there, Archer asks Shirou if he truly intends to win the Holy Grail War without killing anyone. Archer challenges Shirou on whether his actions in not summoning Saber would be what she wants. Shirou looks in on Saber, who's gone to bed for the night. However, she knows he's there and remarks that she's glad he made it back safely. Shirou has much to think about now.
Thoughts/Review: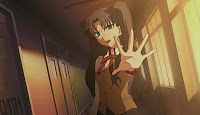 I had previously wondered how the fight between Rin and Shirou would be resolved without one taking out the other. I liked how this truce has been arranged because it is logical – teaming up with Shirou and Saber means that it will be two Master-Servants vs. Rider and her Master. Once this tough opponent is removed, then Rin can dispatch Shirou. I still don't know why she had the reaction she did to Shirou in the first episode. I still want to say that she has feelings for him on some level which is why she doesn't go all out when fighting Shirou.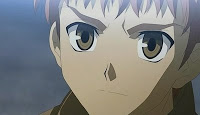 Shirou is acting pretty cocky and as such, he's now officially due for a major butt kicking. However, he's basically been killed twice before so I don't know what good a boot to his rear would do. I understand him wanting to protect people, but Saber is there to fight so why not use her and have her register at school so as to be near Shirou? It makes sense for him not to use a command spell unless it is an absolute emergency so I don't fault him there.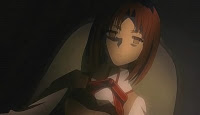 It seems fairly obvious that Shinji is the Master of Rider, but I'm not exactly sure. After all, why have Ayako there too? It is possible that despite her comatose look, she's the actual Master. That might be a stretch and I might be looking to hard, but the writer in me is always looking for the misdirect in a situation like this.
So an interesting turn of events but not enough Saber goodness thus far. ^_^;