フェイト/ステイナイト Ep 16
Fate/stay night episode 16
SPOILER Summary/Synopsis: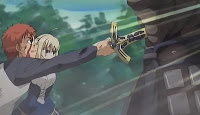 With Rin in danger of being crushed by Berserker, Saber attacks, but does no damage and takes damage instead. Shirou launches a weaponless attack and gets beaten back as a result. With Shirou acting reckless, Saber activates her Nobel Phantasm which forces Shirou to use one of his command spells to stop her. Instead, Shirou thinks of Archer's words and decides to form the sword he saw Saber with in her past. After creating it, he attacks Berserker and manages to cut off the arm holding Rin. However, the sword is not perfect and is destroyed in the process. So Shirou constructs a second sword and with the help of Saber, they run Berserker through to Ilya's astonishment.
As Berserker dies, he regains his sanity as Heracles remarks on the illusionary sword that Shirou created, a replication of the sword Caliburn. However, despite only being a recreation, Shirou's Caliburn was powerful enough to take Berserker's remaining seven lives. With Berserker dissolved, Rin is now free of the giant hand and can breathe freely again. Shirou is in pain but notices the depressed look on Ilya's face as she mourns the loss of Berserker. Saber is about to take out Ilya but is stopped by Shirou, who considers her to just be a little girl now.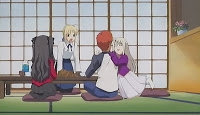 After returning to Shirou's home and getting some much needed sleep, Saber is not happy to learn that Ilya was sleeping in the same futon as Shirou. He doesn't see the big deal about this since she's just a little girl but when Rin gets up, both protest Ilya's being there, citing the fact that she's still a master, even if Berserker is dead. Ilya arrives and informs them that Berserker is the only servant she wanted. As such, Ilya will not try to grab another servant unless Shirou dies and Saber becomes free, something Saber opposes. However, Rin sees an advantage in keeping Ilya close at hand so she changes her mind and back's Shirou's decision to keep Ilya on site.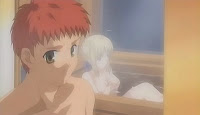 During the morning sword training session, Ilya remarks on how Saber seems to be going easy on Shirou. Saber denies this but Shirou feels she went easy as well and asks her not to. Saber is worried about their bodies coming in contact in a man-to-woman fashion, but this goes over Shirou's head. At lunch, Saber shows that she's accepted Shirou's decision regarding Ilya and after lunch, she has a bath. Shirou decides to take one and accidentally walks in on her. Unlike before, both are now embarrassed by the situation with Saber feeling that Shirou wouldn't want to look at her body, which is not as feminine as Rin's.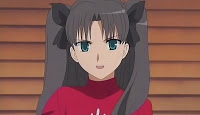 Rin decides to have a talk with Shirou about his ability to create items, which is part of Shirou's tracing ability. Since it is impossible to perfectly recreate an object, such magic is not very highly thought of. She warns him against using it, since recreating Saber's sword would take more magic than Shirou apparently has. Rin and Shirou then talk about Saber's sword Excalibur, where Rin informs Shirou that more important than the sword is the scabbard that held it. Were Saber to get that, she would be nigh invincible. However, since the scabbard was supposedly stolen, Rin's thoughts on the subject get flushed.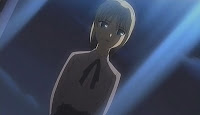 That night, Saber finds Shirou in the storeroom practicing his creation magic. She mentions seeing one of his dreams now that they are connected. As such, she feels closer to Shirou and understands him more, seeing that they are very much alike. With that, Saber feels that Shirou's attempts to be a hero of justice is not the right thing to do. Since both need the Holy Grail for their wish to be granted, Saber believes that Shirou summoning her was inevitable.
Elsewhere, the witch talks her plans to force-summon the Holy Grail, using a mage as a container. She considers Rin but decides the best choice is Sakura.
Thoughts/Review: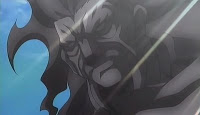 I mentioned last episode that I thought that Berserker would be killed this episode. What I didn't expect was that it would take Saber and Shirou piercing Berserker midsection only once to kill him. I really didn't expect Berserker to regain his sanity as Heracles before disappearing. That makes the creation of Caliburn by Shirou even more impressive in my opinion since it took the final seven lives of Berserker.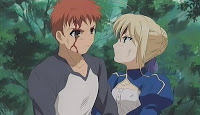 As I understand it, Caliburn and Excalibur are in fact the same sword but with different names. Since Saber is already using a sword that I assume is Excalibur, then I'm guessing the anime is making Caliburn and Excalibur different blades.
Also of interest is Ilya now being with Shirou, Rin, and Saber. I'd forgotten that a servantless master still has the ability to take a new masterless servant. However, it seems that Ilya has some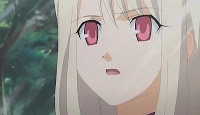 sort of special relationship with Berserker. Too bad we only got a glimpse of that. However, it would explain how Ilya can control Berserker because by nature, a berserker is at best, hard to control.
Anyway, if Rin and Saber were worried about Ilya still being a master, I'm confused. After all, Rin would then still be a master without a servant and could easily take another one if available.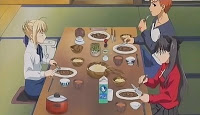 That aside, why couldn't Rin or Ilya simply transfer their command spells to Shirou? Would that nullify them forever as being part of the Holy Grail War? I just don't know.
Moving to Shirou's ability to create artifacts, now we have the explanation of sorts as to the objects that Rin and Saber found a few episodes back. Still, with Shirou having such an ability, I do find it interesting that Rin would warn him about using such an ability while Archer seemed to encourage it.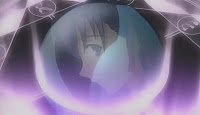 With Ilya having spent the night at Shirou's house, I thought for sure that Sakura or Fujimura-sensei would arrive to have a comedy scene about a little girl now living with Shirou. Then I remembered that Fujimura-sensei is likely still in the hospital and Sakura may well be mourning the loss of her brother.
Interesting that the witch appears to have targeted Sakura for her plans. So I guess rescuing Sakura will be on the menu.
So there an unexpected ease at killing Berserker and an unexpected new resident at Shirou's estate. *lol* Who's next?