フェイト/ステイナイト Ep 17
Fate/stay night episode 17
SPOILER Summary/Synopsis: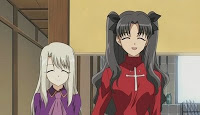 After having a dream about Saber in the past, where her people questioned her judgment, Shirou gets up for breakfast. Rin has introduced Ilya to Sakura and Fujimura as her distant relative who will be staying at Shirou's home. Both ladies have no problem with this and Fujimura tells Ilya to address her as "Fujimura-oneesama." After breakfast, Rin, Saber, and Shirou discuss the master living inside the Ryudouji Temple.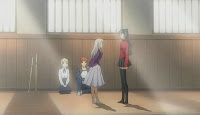 When Ilya joins the discussion in the dojo, she reveals that there are two servants at Ryudouji — Assassin and Caster, who is a mage-type. Caster was previously known as the witch Medea and she is the one who summoned Assassin. Caster had been summoned by a mage but has killed that mage and put a non-mage in his place.
Issei stops by and during his talk with Shirou, he reveals that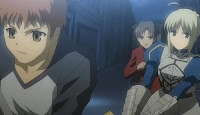 Kuzuki-sensei from school has been living at Ryudouji. Immediately, suspicion is placed on him as being the pseudo-master for Caster, so a trap is laid for him. Late one evening when Kuzuki-sensei walks home, Rin ambushes him with a Gando attack. Since he nullifies the attack, it proves he is a master and Caster soon appears. Saber and Shirou also appear and after discovering that Kuzuki is behind the continued attacks on humans for mana, the trio decides to stop him.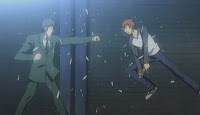 Kuzuki asks Caster to enchant his fists and with that, he's able to easily handle Saber's weakened state. Rin tries to get into the fray but Kuzuki points out that the weakness of a mage is needing time to cast spells. Thus to stop a mage, you prevent them from casting spells, which he does by punching her in the gut. Shirou tries to attack but also fails, so he thinks again of Archer's words and creates Archer's twin scimitar (or falchion) blades — Kanshou and Bakuya. Rin is amazed by this and with the swords, Shirou is able to somewhat hold his own.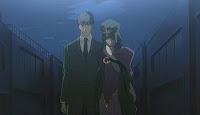 Caster calls the fight to a halt and suggests and alliance, citing they need not kill each other to obtain the Holy Grail as there is another way. Shirou is listening but since this will require humans to be sacrificed as wood on a fire, that's a no-go. Further, the core will need to be a mage and Caster asks which one of them would like to sacrifice themselves for the others. They have no intention of doing so, so Caster and Kuzuki-sensei retreat, Caster informing them she has someone in mind.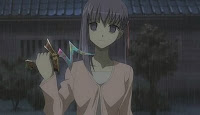 Suspecting she means Ilya, Shirou sends Saber ahead to protect the girl. At Shirou's place, Saber doesn't find Ilya but does find Sakura on the ground. However, Sakura is actually possessed by Caster, who uses her Nobel Phantasm "Rule Breaker" to stab Saber through her armor. While the attack was not enough to break her contract with Shirou, it was enough to seal Saber's sword, thus making her weaponless and even weaker. Sakura-Caster then floats off, challenging Saber and the others to come to Ryudouji to save Sakura, whom Caster has chosen as the mage sacrifice.
Thoughts/Review: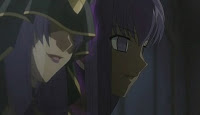 Woo! Hoo! I knew there was something special about Sakura even before seeing some of the information and videos showing her as Rider's true master. So, unlike her brother Shinji, Sakura actually had a mage circuit.
It seems strange to me that Caster would kill the mage who summoned her, then establish a puppet as master in his place. In slaying her master, I would guess she'd obtain freedom to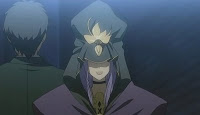 do as she chose. I don't know the purpose of placing a pseudo-master in the place of the original would do except perhaps to keep someone like Rin or Ilya from forcing her into submission (I'm not sure how the masterless servant/servantless master thing works completely).
As to Caster stopping the fight, I'm guessing that Shirou became the wild card and so to take out Saber with the lowest amount of risk, she laid the trap for them at Shirou's house when she possessed Sakura, thus killing two birds with one stone. Wicked.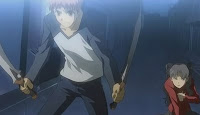 With Saber's blade gone and the talk of a scarab, I would guess that it is time for Shirou to make Saber some new toys that supplant what she's lost.
And speaking of Shirou the creator, I laughed when I saw him create Archer's swords. As I write this, I don't know if those folks knowledgeable in these matters have given an answer or not, but I just can't get over how much Shirou is trying to become Archer. The idea that they are the same person is less powerful in my mind these days as it was when Archer died, but regardless, Shirou is determined to at least become as powerful as Archer without actually being a servant.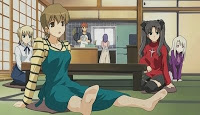 I was glad to see Fujimura and Sakura back, though they didn't have the problem I expected they would when introduced to Ilya. Still, no time for even addressing the issue of Shinji now that Sakura has been kidnapped by Caster. I guess that'll come up when they rescue her. I'm also going to guess that when Shirou wins, Shinji will be back, Saber will be able to stay with him, and even Archer and Berserker might come back, though in different forms. ^_^