フェイト/ステイナイト Ep 18
Fate/stay night episode 18
SPOILER Summary/Synopsis: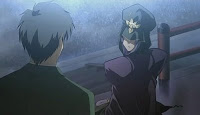 As the rain falls, Caster thinks back to her own tragic past as well as the rainy day she arrived and collapsed at the foot of Ryudouji. She was found by Kuzuki-sensei, who brought her up the mountain steps into the temple grounds and gave her the choice to stay or go as she liked. She chose to stay and made him her master. Back in the present, Caster mentions to Kuzuki-sensei about the rain and their first encounter. He tells her that he will go along with the plan she has laid out and the set off.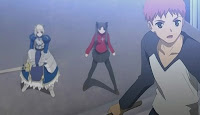 Meanwhile, Saber, Rin, and Shirou arrive at the base of Ryudouji. As they run up the stairs, Rin has a premonition and has them veer off into the woods. At a large stone, Rin uses magic to open a door, which Saber realizes is the entrance to a hidden temple. Inside, they discover that Caster has used her magic to recreate a Greek city and filled it with skeletal warriors. As she prepares Sakura for sacrifice, Rin, Saber and Shirou battle through the underground city until they come to a flight of stairs. Shirou stars up but is stopped by Saber and Assassin reveals himself. He states that he only fights servants and thus all he "sees" is Saber, allowing Rin and Shirou to pass.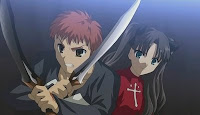 Rin and Shirou get to the top of the stairs when Shirou senses something wrong and manages to produce the blades Kanshou and Bakuya just in time as Kuzuki-sensei attacks. Shirou has Rin go ahead to rescue Sakura while he takes care of Kuzuki-sensei. Rin is horrified to see Sakura prepared for sacrifice by Caster and calls Caster out. Caster has no intention of fighting Rin and simply tells Sakura that the one she's been waiting for is there.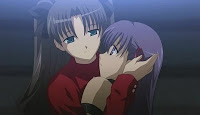 While Saber and Assassin battle as well as Shirou and Kuzuki, Rin has no choice but to take Sakura out despite their friendship going back to childhood. Sakura does not appear to want to fight but cannot help herself and even summons a dagger. While Rin frees Sakura from Caster's power, Sakura stabbed Rin, leading Caster to chuckle as she merely needed to sacrifice a single mage and it didn't matter which one it was.
Thoughts/Review: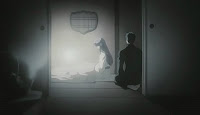 So, the writers make a small effort to show the tiniest bit of information about Caster's past (which I read some of online since she comes from Medea). Since I can't imagine Caster's flashback sequence being a lie, that suggests that either Ilya was lying or that Ilya didn't have all the facts when it came to Caster and her original mage master. It seems that Caster was near death when Kuzuki-sensei found her and nursed her back to health somehow. That being the case, I can understand why she then chose him to be her pseudo-master for the war and then set out her own plan to obtain the Holy Grail without any fighting on her part.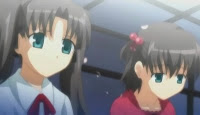 Another mere tidbit of information comes from the Rin-Sakura backstory. All I know from this episode is that (1) they knew each other and (2) something bad apparently happened to a young Sakura and Rin feels guilty for abandoning her. I get the ugly feeling that Sakura may have been beaten or raped as a child considering that brief scene showing a shadowed male with an ugly, evil smile inside of a limo. Hopefully we'll learn more (though I doubt it since the anime can't waste much time on details) but I'm kind of disappointed that there'd been no indication that Sakura and Rin had been friends before.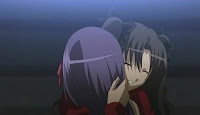 I'm not entirely convinced that Rin is going to die here. Why? Well, she is a mage and in theory could heal herself as she did for Shirou when she brought him back from death (or near death). Of course, they could kill her and that would go back to my earlier thought of Shirou getting his wish granted and bringing everyone back in addition to ending the Holy Grail War once and for all.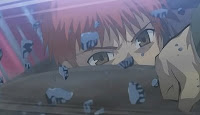 Shirou gets better at fighting and even produced those blades in a hurry. I suppose once he'd created them and basically perfected them, they are at his beck and call.
I wonder who Lancer's master is. Who's the shocking final master? I only mention this because we are rapidly drawing to the end and that means that Caster and Assassin will fall soon, leaving only Lancer. I can think of only one person who might be Lancer's master of the people introduced, but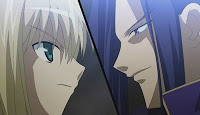 then again, the anime could produce some new and unexpected element (like Ilya had two servants, though I doubt that's the case).
So another good episode in a good anime series. I really will have to do the visual novel to pick up all of the story elements, but for those who've been gracious enough to provide me information, please feel free to continue to do so. ^_^