フェイト/ゼロ
Fate/Zero – 06
SPOILER Summary/Synopsis: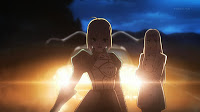 Iri is having a blast driving Saber through a mountainous road at high speeds during the evening when Saber as them stop as Caster is in the road, waiting for them. Caster identifies himself as Gilles de Rais and thinks that Saber is Jeanne d'Arc.  When Saber says she is Arturia, Caster assumes that she has forgotten her true identity and is devastated that his beloved Jeanne has been so cursed by God. However, as he retreats, Caster vows to have Saber's curse lifted.  This is observed by one of the Assassin's, who is delighted to finally have located Caster.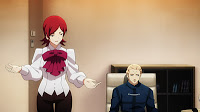 Caster returns to his hideout where Ryuunosuke is, angry at the idea of God doing such a terrible thing to Jeanne and telling Ryuunosuke that they have to start slaughtering more and blaspheming more, starting with the eleven kids they had kidnapped. Elsewhere, Kayneth is upset with Lancer for not having killed Saber when he had the chance and gets angry when Lancer promises to deliver her head to him since it is after the fact. A woman, Sola-Ui, comes in defending Lancer to "Lord El-Melloi," criticizing him for not facing Saber's Master head on.  However, Lancer stops her and defends Kayneth.  When Sola-Ui quickly backs down, Kayneth suspects she's been charmed by Lancer.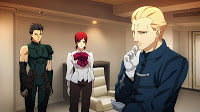 Before anything more can be made of this, an alarm sounds and the phone rings.  The hotel they are staying at has a fire on the lower floors and a general evacuation is in order. Kayneth figures this to be Saber and her Master since Saber will need the curse on her hand undone and sends Lancer to greet Saber while the massive array of magical defenses and traps await Saber's Master. Outside the hotel, Emiya poses as Kayneth when the staff check on their guests as Maiya waits on a nearby rooftop and observes. With that, Emiya sends a code over his cell phone and a series of bombs go off in the highrise hotel, causing it to come down.
Emiya is ordering Maiya to withdraw, thinking Kayneth could not have survived when Kirei shows up at Maiya's location. He has her dead familiar and tosses it on the ground before attacking.  She manages to get to another spot with minor injuries, impressing Kirei.  When he goes in for the kill, a smoke bomb comes in and goes off, providing her cover for escape. Kirei does not pursue, satisfied in knowing there was another with her to save her when one of the Assassin's arrives with news of Caster. With Caster and Ryuunosuke not interested in the Holy Grail and not bothering to hide their magic, Tohsaka, Kirei, and Risei agree that Caster and his Master must be eliminated immediately.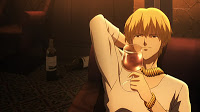 After Risei decides to use his authority to make a minor rule change to have all of the Master's and Servants work together to eliminate Caster and Ryuunosuke, Kirei returns to his room in the church where he finds a casually dressed Archer on the couch, having consumed a vast quantity of wine. He is bored with Tohsaka's methods and plans and wonders what Kirei wants with the Grail. When Kirei denies having a want or wish, Archer doesn't believe it, which leads to an extended discussion of pleasure.  Kirei's thoughts on the subject interest Archer, whom as Gilgamesh, knows a great deal about pleasures. Archer wants to add to Kirei's observation duties, not only the strategies of the other Masters, but their motivations as well as Archer may find them of interest. Kirei agrees to this.
Thoughts/Review:
Whenever a character says, "there's no way my opponent could have survived that, no matter what," that is an immediate flag for said opponent surviving and showing up when the one character least expects it.  Emiya should have known better than that.
I'm going to assume that Emiya would have been prudent and done some sort of "make sure" investigation after the bombing. Kirei showing up at Maiya's location is what I'm going to assume takes Emiya off his game plan.  With Kirei attacking Maiya, it will be interesting to see what Emiya does now, especially with the Church targeting Caster and Ryuunosuke.
As some of you stated, Caster and Ryuunosuke are getting more vile, but at least we aren't having to witness them butchering innocent kids (so far, at least).  Both Caster and Ryuunosuke are insane to varying degrees, so it will be interesting seeing how they defend themselves against the forthcoming storm.
I guess Sola-Ui is Kayneth's wife based on Emiya's remarks. They seem to have an odd relationship though since she actually addressed him as "Lord" (using the actual English honorific in the Japanese) initially. She had no problems belittling him and I think Kayneth might have been right to suspect she'd fallen for Lancer, even if Lancer didn't do it on purpose with a charm.
Regardless, it is interesting that Kayneth holds the Command Spells over Lancer but Sola-Ui supplies the Mana.  I wonder if that would have been the arrangement if Kayneth had been able to summon Rider as planned.
It was funny seeing Archer in civilian attire.  His meeting with Kirei is obviously the groundwork for him to work with Kirei down the road.
So, a very interesting episode, to be sure. I'm looking forward to seeing how Caster and Ryuunosuke are taken out.