フェイト/ゼロ Episode 16
Fate/Zero – 16

SPOILER Summary/Synopsis: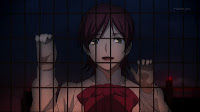 A distracted Sola-Ui is attacked by Maiya, and has her arm with the Command Spells for Lancer cut off. Maiya secures Sola-Ui, stops the bleeding, then shoots the hand with the spells on it as it is still holding the fence. Meanwhile, Kayneth pays a visit to Father Risei regarding receiving an additional Command Spell for having helped defeat Caster. Risei complies, and after Kayneth gets the spell mark, he shoots Risei to prevent the other Master's from also getting the mark. Returning to his base, Kayneth receives a report from Lancer, stating that Sola-Ui is missing. Kayneth is angry with Lancer and accuses him of seducing Sola-Ui.  At the end of Kayneth's lengthy tirade, Lancer informs him that people have arrived.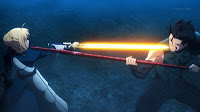 Saber and Iri are the ones Lancer sensed, whom he then meets. Neither knows about Sola-Ui, but Saber figures tonight is the best time to complete their fight as the other Servants are off recuperating from fighting Caster. As they fight, a cowering Kayneth is in the shadows, wondering why Lancer isn't getting him to safety. His thoughts are interrupted by a bullet tossed his way, as Emiya reveals himself and the unconscious Sola-Ui at his feet. Emiya has a Self-Geas Scroll, the terms of which would force Kayneth to cause Lancer to commit suicide with his remaining Command Spell, after which he would be banned from magic and from hurting others. In return, Emiya would be bound to not kill Kayneth or Sola-Ui.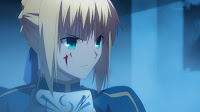 Kayneth agrees to the contract, and to Saber's surprise, Lancer commits suicide. Lancer curses them all for wanting the Grail that badly and dies. Emiya turns Sola-Ui over to Kayneth, but Maiya assassinates her and shoots Kayneth as well. Sola-Ui is dead, but Kayneth still lives. Emiya cannot harm Kayneth, so the disgusted Saber puts Kayneth out of his misery. She then verbally challenges Emiya for what he is doing. A sickened Iri tells him to explain things to her. In Saber's and Emiya's discussion, Emiya rejects Saber's notions of nobility and honor on a battlefield, finding all wars to be evil, thus he will end the Holy Grail War and stop human bloodshed. Saber wonders if Emiya had dreamed of being a champion of justice as a kid, but had those dreams killed by something. Emiya leaves, after which Iri collapses.
Thoughts/Review:
I really do need to watch the BD versions of this series, as clearly, things are happening there that aren't showing up in the TV version.
Anyway, Lancer is clearly a tragic victim here, even after his death. He's been made to go through a similar type of hell he went through in life. I wonder if his curse is the reason the Holy Grail becomes polluted.
As to Kayneth, well, even though his death was through deceit, I shed no tears for him nor Sola-Ui. Kayneth was a bastard through and thus he got what he deserved. Still, I will give him props for truly loving Sola-Ui, as he chose her over the Grail.
Emiya is also a bastard, but I did find his disdain for Saber's honorable combat interesting. Basically, he lumps all warfare as a single evil thing to be destroyed, whether the purpose is noble or not.  Saber's counterpoint about Emiya's evil was also interesting, especially in light of how I know things play out between the two.
Regarding Risei, he got what was coming to him as well.  Deceit begets deceit, as both Risei and Kayneth learn the hard way.
I'm guessing that Iri's collapse at the end of the episode is due to her role in war. As I think of it, it is a jacked up thing.
So, Lancer is gone, Kayneth is gone, and Sola-Ui is gone. Who's next? I figure it has to be Rider but we'll see.