フェイト/ゼロ Episode 22
Fate/Zero – 22
SPOILER Summary/Synopsis: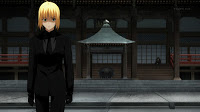 Waver returns to the home of the elderly couple he's enthralled, only to find the old man on the roof wanting to speak to him up there. Rider encourages Waver to go up, so he does, where he discovers the old man has discovered the truth that Waver isn't their grandson, but since Waver has been better to them than their real grandchildren. As such, Waver ends up watching the sun rise with the old man, fulfilling the old man's dream. Meanwhile, Kiritsugu is at the temple atop Mt. Enzou and planning how to kill Kirei as well as lamenting the fact that he's alone again. Saber reports that she's been unable to find Iri and requests he use a Command Spell to summon her again if she is needed.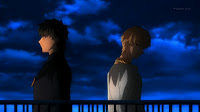 Meanwhile, Kirei interrogates Iri at Caster's former hideout, where he learns of Kiritsugu's wish to have peace, which would cause the end of humanity. He breaks her neck, sending her spirit to the place within the Grail, which shows signs of darkness. That night, Rider and Waver observe a series of signal flares that indicate victory in the war, but which Rider determines are a challenge. Waver burns his three Command Spells to free Rider, but Rider considers Waver a friend and equal and takes him into battle anyway.  Saber has also seen the flares and rides to the location as Kiritsugu also prepares to head out.  Kirei has Archer go out, and promises him to have Berserker keep Saber occupied should she arrive. He also agrees to return should Kirei need him, but can't promise not to damage the Grail since he's going to be fighting unleashed.
Thoughts/Review:
Again, one of the strengths of this series for me is the character work that has been done.  Starting with Waver, though he is afraid and shows his fear a lot, Rider has respected him for doing what he could in combat and always being there with Rider. Waver's burning of his Command Spells is basically his giving up on the Grail and letting Rider have it, but since Rider considers him a friend and equal, Waver goes into the final battle. Question is, does he survive?  It would be neat if he did, but I don't see that as possible. I figure he'll probably die afraid, but at the same time, brave.
I liked the moment that Waver had on the roof with the old man.  Despite his flaws and despite the fact that he had the elderly couple bewitched into thinking he was their grandson, he has been kind to them and brought them a measure of happiness, which is another reason I'd like to see Waver live.
I would have thought that killing Iri would have harmed the Grail since she's the vessel, but I guess not.  It really is unfortunate knowing what I knew will happen regarding her, but oh well.
I'm going to guess that Berserker sent up those flairs to attract Saber and Rider as well as Kiritsugu.  I also guess that we'll finally learn whom this Berserker is.
I got a little chill at Kiritsugu being at the temple on Mt. Enzou, especially when Saber went up there. That's because the place plays such a major role in Fate/stay night.
Only four more episodes to watch how this plays out. I'm looking forward to them.