ハヤテのごとく!/Hayate no Gotoku Manga
Hayate the Combat Butler Chapter 470 Review
SPOILER Summary/Synopsis: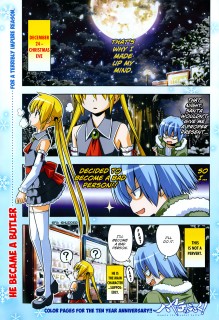 The first chapter of the manga get redressed in the modern style, all the way to where Hayate got fired from his bicycle courier job, only this time, Ayumu is in the group of friends who came to see him.
Nagi cuts this off, saying people should read the first chapter if they want to know that story.
Nagi wants to show off her manga, but Hayate turns that offer down.
Maria shows up, shocking both Nagi and Hayate by having her original character design. However, they want things to go back to the current design.
Hayate asks what the biggest impact on Nagi has been over the last ten years. She says it was when she (Hata-sensei) was almost sued, but who by is censored out. Nagi recounts other things, speaking for Hata-sensei.
Hayate wakes up from his dream.
Thoughts/Review:
Heh!heh!heh! Congrats, Hata-sensei!  Ten years is quite an accomplishment.
It was fun seeing the introduction of the first chapter redone, even if it is in the inferior, current character design.
I can understand why Hata-sensei changed things to have Ayumu in there. It would make more sense for her to be there, based on how things turned out.
I wonder who was going to sue Hata-sensei. I figure some nutter (or company) were wanting to claim plagiarism.
All that aside, for me, the best part was seeing Maria in her original character design. For some reason, I was somewhat surprised at how easily Hata-sensei shifted back to that design. Maria looked lovely. I've long said that the old character designs gave the characters more personality. It really is a shame that Hata-sensei is using this current, simplistic character design. I think he is doing that because it is easier and quicker to draw.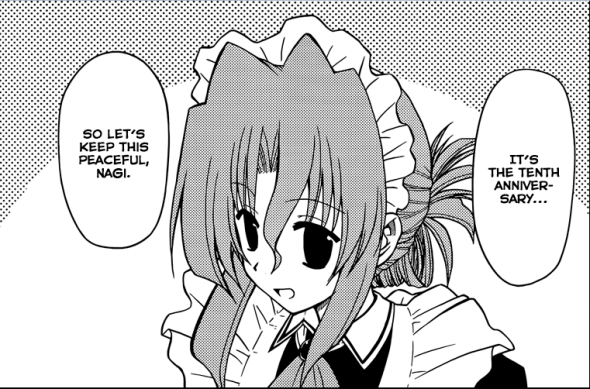 Otherwise, not much to talk about since this was a oneoff story just for the 10th anniversary.