Fate/stay night: Unlimited Blade Works – 08 review
フェイト/ステイナイト [Unlimited Blade Works] – 08
SPOILER Summary/Synopsis: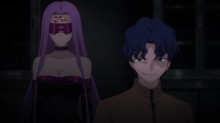 Shirou dreams his arms become spiky metal things. After training with Saber, she seems pleased with his progress, but acts offended when he mentions mimicking Archer's moves. Shirou arrives late at school, where Shinji is acting weird to him. At lunch, Rin drags Shirou to the rooftop, where she apologizes for Archer's attempt on his life. She reveals she used another Command Spell to force Archer to not attack Shirou while she and he are allies. As the two discuss the situation, including Shinji being a master, Shinji springs his trap by having Rider activate it. A barrier around the school is activated, causing the students to become unconscious. After checking on Sakura, Shirou and Rin are attacked by Dragon Tooth warriors.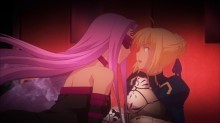 Shirou decides to use one of his Command Spells to summon Saber, who makes short work of bone warriors. Saber senses a Servant on the floor they are on while Shirou senses the source of the barrier on the first floor. He tells Saber to deal with the Servant while he and Rin deal with whatever's on the ground floor. As they head down, Shinji and Rider find their hideout under assault from someone, shocking Shinji. Meanwhile, Saber encounters Rider, only to discover it is an illusion from Caster. Shirou and Rin make it to Shinji's location, where they find him in shock and Rider utterly defeated, where she dies, causing the barrier to lift. Shinji refuses to cough up who attacked Rider and him and flees. Since the students are alive, Rin suggests calling Kirie for help, after which, she, Saber, and Shirou discuss the situation.
Thoughts/Review:
Wow. These Fate/stay night episodes just fly by.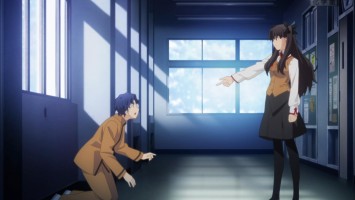 I don't remember if this was a factor in the original anime adaptation, but I find Saber's being offended by Shirou's using Archer's style to be fake. After all, she was pleased with his actions until he admitted he was imitating Archer. Surely, she would have known that right away. Still, I couldn't help but find it cute.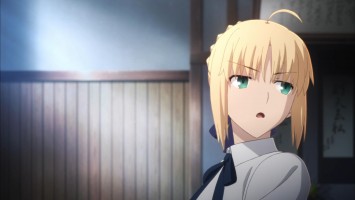 And speaking of cute, the blushing Rin impatiently waiting for Shirou, then dragging him to the roof for lunch made me smile.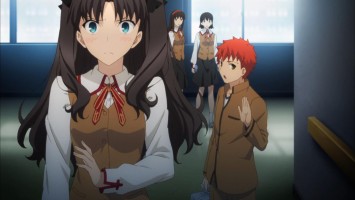 Their conversation regarding Shinji revealed how clever he was. Not being a mage, trickery was the only way he was going to win. He played Rin into not doing anything since she knew he had no power. He played Shirou by evoking their friendship (though how the two were friends is a mystery to me).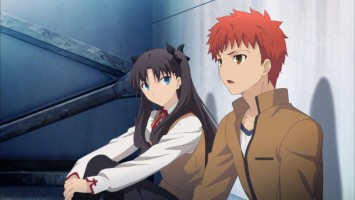 Whatever Rin and Shirou did to remove his barriers was a fail since Rider was able to activate them. It seemed like their efforts were for naught, based on how the barrier went up and did what it was supposed to do…until Rider bit it.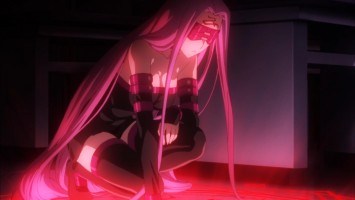 Speaking of Rider, I will admit that I am disappointed we didn't get to see her riding Pegasus. I'm also disappointed she got killed so quickly, but I couldn't help but feel that she allowed herself to be killed. Without saying anything, she had that appearance of just not wanting to be there. Yes, we did see that she fought, but I can't imagine went all out.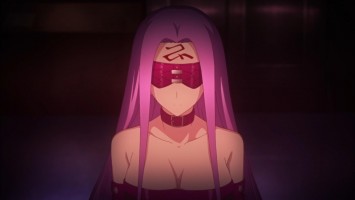 I don't remember Rider being killed like this in the original anime. Shinji's reaction to the intruder at the lab, combined with Caster doing all of the bone warriors and such strongly suggests that Caster's master did it somehow. I know who Caster's Master is, so I know this person is tough in a fight. And if Rider let herself be killed, then there you have it.  Either that, or Caster and her Master have an alliance with another Master-Servant, but I kind of doubt that.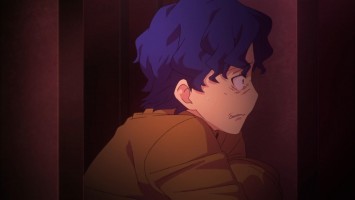 Shirou comes off so much better in this adaptation than in the previous one. Yeah, he was a bit of his annoying self last episode, but he was letting Archer get under his skin. Here, even Rin noted how calm and collected Shirou was during the fight, noticing things that she missed. I do like this version of Shirou.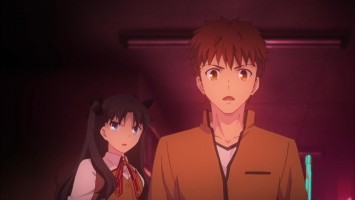 So, we have our first Servant death, and Shinji is out of the race. If I had to guess, I'd say Caster was next on the list (and again, I don't remember if she died next in the original anime or not). We'll see.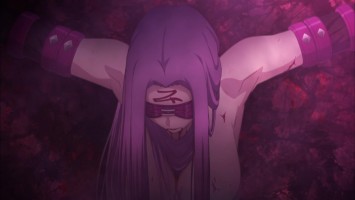 Once again, ufotable knocks another one out of the park. Their adaptation of Fate/stay night really sets a high bar for other anime adaptations. I really am looking forward to the next episode.