ユーキューホルダー! Manga Review
UQ Holder Chapter 58
SPOILER Summary/Synopsis: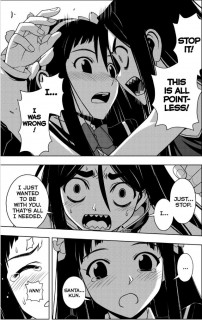 Sayoko begins attacking Santa with very advanced magic as she no longer recognizes him. He manages to get to her and avoid her last attack. He reaches Sayoko's true self, pleading with her to stop as all he needed was to be with her. Although he reaches her, a swarm of skeletons emerge from the shadows and grip her, causing Santa to realize that they are controlling her. As she starts succumbing to the evil again, she says that she let them in because she wanted power and revenge.
Sayoko's body is transformed into a giant mass with wings all over. Santa tries to get close, but the possessed Kuroumaru stops him. Santa knows that Kuroumaru can "kill" him, but though he manages to elude Kuroumaru (save for losing a few fingers), he is unable to phase through one of Sayoko's tentacles.
Santa desperately tries to reach where Sayoko is to pull her back, but Kuroumaru stops him, showing superior battle experience. Santa is about to be "slain" when Touta shows up with Shinji to deflect the blow.
Thoughts/Review:
As expected, Touta shows up to be the deus ex machina for Santa. I'm not thrilled by that, but it does appear that Akamatsu-sensei is going to give Santa another go at reaching Sayoko.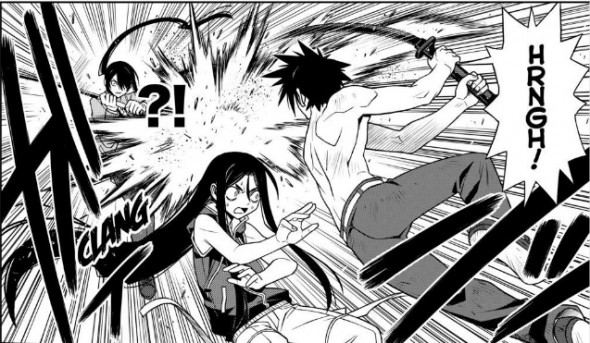 I really do hope Sayoko gets redeemed at the end of this arc. I think it would be lovely for her and Santa to join UQ Holder while at the same time, being a sweet, if undead, loving couple.
I am glad that Santa's and Sayoko's battle didn't play out the way I had expected. I kept thinking that she'd snap and lose the last of her humanity when Santa rejected her.  Santa never rejected her, only pleaded that his only desire is to be with her. While she did accuse him of abandoning her, that was more because she was overtaken by the evil rather than her actual thoughts.
We got to see some of her god-class abilities. In that whole power chart from Negima, I suspect she ends up being way up there in power, towards the top. I think she could stand up to Eva, and I think she'd give Fate a run for his money (though I think Fate's being an artificial construct and years of battle experience would give him the edge).