愛・天地無用! Ep. 37 (46 w/ recap episodes)
Ai Tenchi Muyo! – 37 Review
SPOILER Summary/Synopsis:
Note: The episode numbering used here is based off of the official video releases, which aren't numbering the various recaps and such in the episode numbers.
Yuki begins gaining in the polls, so Hana and the others investigate, discovering that Yuki is giving away free meal tickets. They attempt to nail her, but she gets away ninja-style, leaving a bomb in her place which Beni and Hachiko combine to cause to explode in the air, where it becomes another advertisement for Yuki to win. Momo attempts to thank Beni for helping.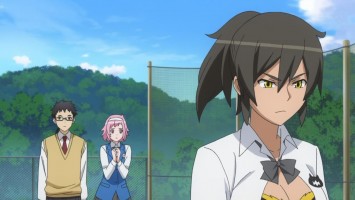 愛・天地無用! Ep. 38 (47 w/ recap episodes)
Ai Tenchi Muyo! – 38 Review
SPOILER Summary/Synopsis:
Hana has a large box of confiscated voter fraud materials taken from Yuki. Considering the massive number and variety of voter fraud items taken, combined with Yuki willingly giving them up, Hana is suspicious. She's also frustrated that her comrades still aren't taking this seriously enough. Hachiko comes in with a paper being distributed, containing an article and picture of Momo falling into Tenchi's arms.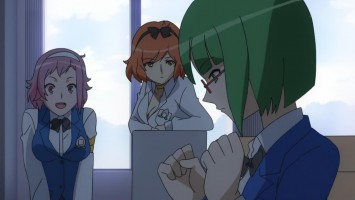 愛・天地無用! Ep. 39 (48 w/ recap episodes)
Ai Tenchi Muyo! – 39 Review
SPOILER Summary/Synopsis:
An angry Kurihara-sensei brings Tenchi into the teacher's room over his perceived indiscretion with a student. Momo comes by to set the record straight by admitting she's the girl in the photo. Kurihara-sensei says she'll listed to what Momo has to say, but refuses to accept an answer stating the incident as an accident. To Kurihara-sensei's surprise, Momo challenges the concept that anything wrong is happening in the photo. Later, Momo tells Tenchi that she tries to stay in the spotlight so that she can be found, which Tenchi says may have already happened.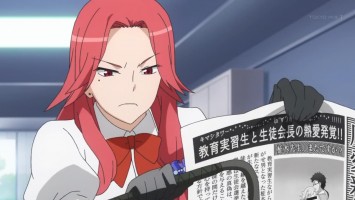 愛・天地無用! Ep. 40 (49 w/ recap episodes)
Ai Tenchi Muyo! – 40 Review
SPOILER Summary/Synopsis:
Yuki and Momo have their debate, where Yuki attacks Momo on the alleged illicit relationship between Momo and Tenchi-sensei. She appears to have the election in the bag, but Momo makes an impassioned speech, turning things around. At the end of her speech, Momo has a weird feeling as Galaxy Police arrive in orbit.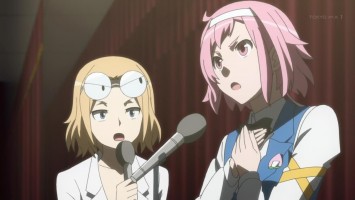 Thoughts/Review:
For episode 37, I have to admit that her unexpected method of escape made me chuckle. Otherwise, this whole Student Council election thing isn't doing much for me.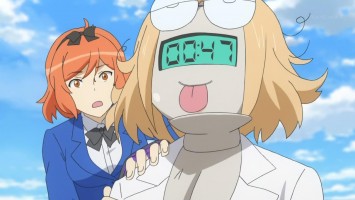 For episode 38, it is clear Washu is rigging the election. It is also clear that she's the one behind the "scandalous" photo in the paper.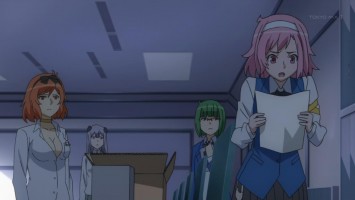 For episode 39, we get the whole "facts don't matter, perception is everything."  Further still, the agenda-driven "good fact" that Tenchi and Momo are in an illicit relationship based on a photo of Momo falling into Tenchi's arms trumps the true fact that Momo tripped, was caught by Tenchi, and that's all there is to it. Sadly, that's the world we live in — the truth of anything doesn't matter. It is only the agenda and perception that matter.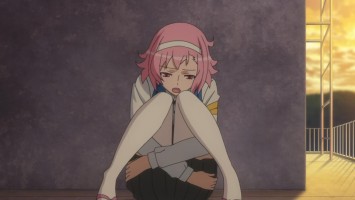 For the last episode of the batch, meh. If only things were that simple that an impassioned speech could turn everything around.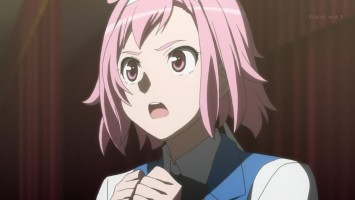 As to Momo experiencing discomfort just before Galaxy Police arrived, I'd say that because she's a temporal distortion, GXP's arrival triggered something. That suggests that they'll do something which will make things worse.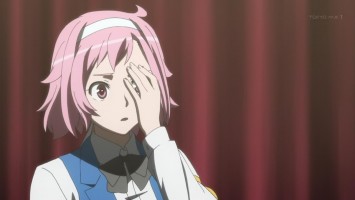 With no Aeka, Ryoko, or Sasami, this batch of episodes was mostly "meh" — not bad per se, but nothing that good either.