Fate/stay night: Unlimited Blade Works – 18 review
フェイト/ステイナイト [Unlimited Blade Works] – 18
SPOILER Summary/Synopsis: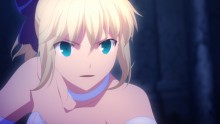 Saber defends Shirou, but with no Master, runs out of mana. Shirou attempts to battle Archer, but he doesn't have the mana to keep up. Rin forms a contract with Saber, which Saber accepts. Now refueled with mana, Saber is now able to face Archer. The two clash and Archer is outclassed. So he summons his Reality Marble, Unlimited Blade Works, and pulls Saber, Shirou, and Rin in. Archer explains how his ability works and how that now that he's seen Saber's sword, he can reproduce it. However, if Saber defends against his attack, the result will be the death of Rin and Shirou. To that end, Shirou stops Saber, having figured out this Reality Marble. In defending against Archer, Shirou forces them out of the Reality Marble. As a result, Archer kidnaps Rin and gives Shirou a day to meet him at Ilya's castle.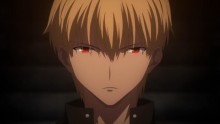 Lancer is waiting for Shirou and Saber as Rin recounts how Archer's life as Shirou was one where he was constantly betrayed, eventually by his own ideals. Rin comes to, bound to a chair, where she has a frank discussion with Archer about Shirou. Shinji shows up at the place Archer has Rin at, and he wants Rin. To back up Shinji's claim, Gilgamesh shows up. Archer says that he needs Rin until the following day, after which they are free to do with her as they will. Shinji accepts the offer and as he leaves with Gilgamesh, Gilgamesh calls Archer a faker. That night, Shirou wakes up with Saber tending to him. Now that Rin is her Master, she is obligated to help. Shirou has her promise to let him face Archer since Shirou knows he and Archer are the same person. The next morning, the leave and are joined by Lancer after Shirou accepts his offer of help. At the Ryuudou Temple, a smirking Gilgamesh observes rescue teams removing 53 unconscious people.
Thoughts/Review:
There are many things to enjoy about ufotable's Fate/stay night: Unlimited Blade Works anime adaptation. One of the things I'm liking is how things go ways I really don't expect, but not just because "reasons."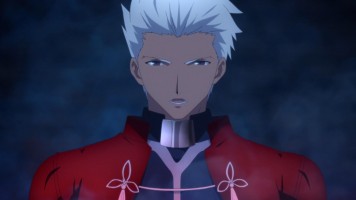 Since Saber was Shirou's Servant at the start of this series, and since Saber was Shirou's Servant through the entire Fate route, I just expected that once Saber was freed, she'd return as Shirou's Servant. Even Rin was promoting this idea.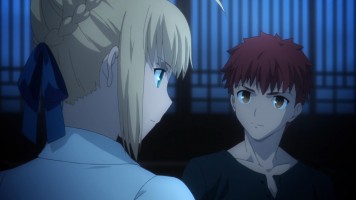 In the end, having Rin become Saber's Master was totally not expected on my part, yet when it happened, it made total sense. Saber not getting enough mana from Shirou didn't come up in this adaptation for some reason (and I kept expecting it to be an issue since it was an issue in the Fate route), so had Saber recontracted with Shirou, it would not really have helped. However, by contracting with Rin, Saber can protect Shirou.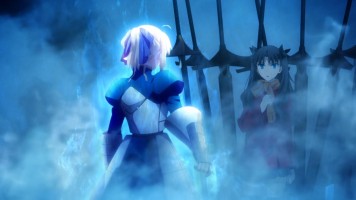 Saber's brief battle with Archer was pretty fun. And she looked pretty cute in her white dress before getting her mana from Rin and going into battle mode. 😉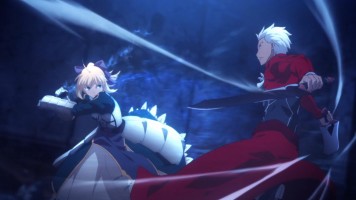 Now that we know that Shirou knows Archer's true identity, Archer has basically shown Shirou how to create the Unlimited Blade Works Reality Marble (at least as I see it). So when Archer and Shirou have their final confrontation, I kinda expect it to be a Reality Marble vs. Reality Marble. I don't know how Shirou would win, and with unexpected things happening all the time, maybe it doesn't matter.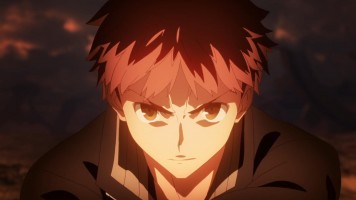 When Rin was dressing down Archer, I was kinda hoping she'd call him Shirou. She knows who Archer is, and the dream segment showed events from Shirou's life. I keep thinking on how I'd like to see how Rin and Shirou are as a couple once this is all over. Rin understands Shirou the best and probably is the one who can keep him from falling into whatever trap Archer fell into.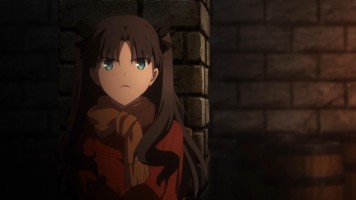 Of course we have to get past Shinji and Gilgamesh. It is pretty clear that Shinji just wants to rape Rin on top of whatever other plans he and Gilgamesh have for her.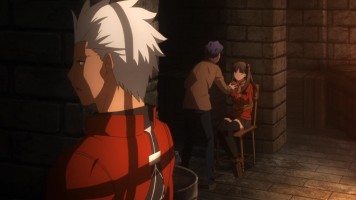 I didn't expect Gilgamesh to accept Archer's proposal regarding Rin. Granted, Gilgamesh is allowing Shinji to call the shots, but as arrogant and Gilgamesh is, I thought he'd do more than call Archer a faker (in English no less).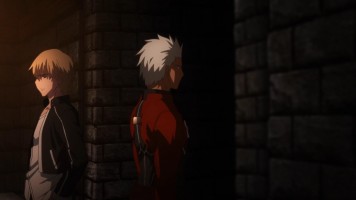 Lancer joining Shirou and Saber for their confrontation of Archer wasn't what I expected. I keep wondering when he'll turn on them, even if it is not by choice.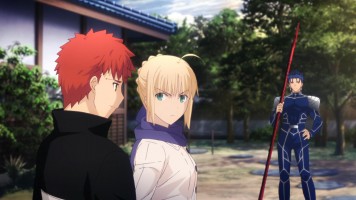 Finally, I presume by Gilgamesh smirking at Ryuudou Temple, he's the one who's been causing people to become unconscious.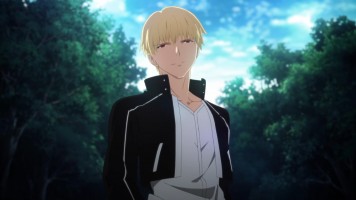 So a really good episode here, as usual. Can't wait for the next one to arrive.