ユーキューホルダー! Manga Review
UQ Holder Chapter 107
SPOILER Summary/Synopsis: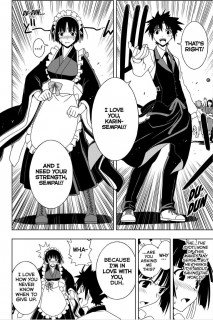 Both Karin and Touta pay separate visits to Yukihime's office, but since she's not there, both take the opportunity of their visits to partake of the box of chocolates on her desk.
A large number of guests arrive; Karin is frustrated that Touta is performing his job so flawlessly. Her continued focus on Touta is causing her to make mistakes. During her break, she irritatedly seeks out Touta, only to find him playing with the orphaned (youkai) children housed on site. Jinbee asks her to let Touta play as it helps him.
When Karin finally starts talking to him, Touta gushes on the good works they are doing, then seems to propose to Karin as he asks her to join him to help him in his goal to help the world. He tells Karin he loves her and needs her, causing Karin to become flustered. Under Touta's enthusiastic verbal assault about his love for Karin, she blushes and tells him he doesn't know her.
Mizore interrupts them to say she knows how to save the world, but Yukihime stops her. Yukihime wants to talk to both Karin and Touta as Touta does a shundou to her, embracing her while proclaiming his love and proposing to her. Yukihime gives him a beating for this, then tells Karin that the candies on her desk were actually a dangerous drug which causes the consumer to speak whatever is on their mind.
Thoughts/Review:
Man, talk about your plot contrivances. What the heck would Eva be doing with a box of chocolates on her desk that are actually a powerful drug to force the person who ate them to speak their mind? I would say that she set them out there on purpose as that's the only reason to do it. Whether this would be to target Touta and/or Karin specifically, who knows. But that's just looking for a reason for the chocolates to be out there when there is no reason for it.
That aside, the Karin x Touta ship is now setting sail. Funny enough, I could sail that ship. For starters, I've always liked Karin. She may be "Useless-senpai" in many ways, but she's still adorable, and she can kick arse when she's not being made to be worthless. Plus, Karin was rather cute with all of her blushes. She really is like Motoko from Love Hina in that regard.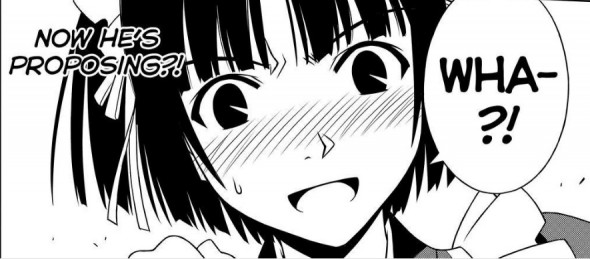 (As an aside, I wish her remark on Touta not knowing her was a cue to get more of her backstory, but I doubt that happens.)
On the other half of that equation is Super Touta. I've noted for a little while now that even though he's still Super Touta, he doesn't get on my nerves like he used to. I guess I just can't hate a character who actually works hard and has a good work ethic. I can't dislike a character that works so well with orphaned children. There have been countless times when Touta has been worthless, which is one of several ways that Touta and Karin are alike. So I think they'd be a good pairing.
As I predicted from the spoilers, Touta was in for a beating when he glommed onto Eva to proclaim his love there. So while Super Touta may not annoy and irritate me like before, I still enjoyed seeing him take a beating. 😀
Anyway, some final points I like to make.
Great to see the inn in action, even if for a bit.
Were some of the visitors tied to characters from Negima?
Kirie got flustered over Karin mentioning Touta. Heh!heh!
No Kuroumaru. Bummer
In the end, I liked the chapter despite the horrible contrivance to get us a Karin chapter of the harem saga. Bring on the next Karin chapter.