ユーキューホルダー! Manga Review
UQ Holder Chapter 128
SPOILER Summary/Synopsis: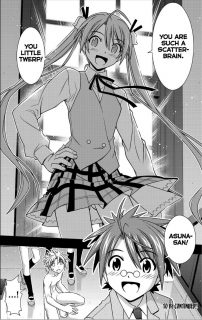 Yue tells Touta that he needs to come with her group since his creation was to be a tool. Yukihime uses her Ensis Exsequens spell to generate a long blade at Yue's throat, cutting her hair in the process. Yukihime warns her about saying more. Yue coldly states that Eva and Fate created Touta. Yukihime laments where Nodoka and Yue have gone, but in her hesitation, Al attacks her with gravity magic.
Touta attempts to rush to help Yukihime, but Jack Rakan stands in his way. Jack launches a massive blade attack to kill Touta, causing a ton of damage. However, Touta is saved thanks to Kuroumaru and Santa blocking the blade from reaching Touta. Kuroumaru forces Jack back as Karin, Kirie, Ikkuu, Isana, and Honoka stand by Touta's side.
Jack is amused by this and going to take them all on, but Fate arrives and attacks Jack. Jack is unharmed and greets Fate. Al then decides to reveal everything to Touta so that Touta can choose for himself. With that, Al casts a spell that forces Touta's spirit to a representation of the past, where he is able to see Negi as a ten year old teacher as well as some of his students. After doing one of his usual wind-inducing sneezes, Asuna appears at the top of the stairs to tease him a bit regarding this incident.
Thoughts/Review:
I'm sitting here in front of my computer, desperately trying to find a starting point for writing purposes. This isn't because the chapter was bad; quite the opposite. This was an incredible chapter for me. So instead of writing, I keep rereading it over and over again.
One of the things many of us have pondered is whether or not Yue, Nodoka, Jack, and Al are the "real McCoy's" or not. I'm in the camp that believes these are the real deals. This chapter reinforced that to me.
I'm convinced that Eva considers Yue and Nodoka to be real and not artificial constructs. I think if she did not, she would not have hesitated to kill Yue. (And hurray for the return of the Ensis Exsequens spell.) Not only that, in her hesitation, she is clearly remembering her former school and battle comrades from the past. Further, I believe Eva cares a great deal about the pair, namely because she knows how much they love Negi, and how important they were to Negi.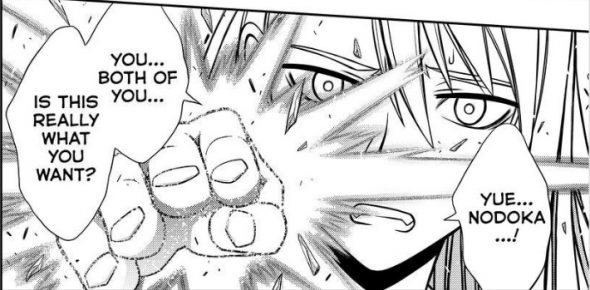 As a longtime fan of Negima, I could easily see the situation from Eva's perspective. How can she possibly kill these friends of hers, even though they are now no longer her allies and working for the enemy of Nagi and then Negi? (As an aside, it made me want to relive the good times of Negima again.)
Then there's Fate's confrontation with Jack. Not only did the two have banter that suggested both were real, but Fate remarked that he couldn't get over the notion of Jack joining "her" (whom I presume to be the MotB). Considering how Fate was one of MotB's most loyal servants and Jack battled against MotB as part of Ala Rubra, then as an assistant to Ala Alba, Fate's words are probably what us fans are thinking too. How can Jack switch sides like that?
This also gives credence to the theory that Negi struck a deal with MotB. As part of that deal, he enlisted the help of Jack, Al, Nodoka, and Yue. I can easily see Yue and Nodoka going along with whatever their beloved Sensei asks of them. I can see Jack being amused by the audacity of Negi's plan and going along for larks. And in that same vein, I can see Al doing much the same.
I do find it interesting that while Nodoka doesn't come off super cold, Yue does. I tend to suspect that this is part of MotB's influence on them.
I'm glad to see the return of the magic to visit memories and/or phantasmagoria places. Considering Al's artifact records every bit of information about anyone he comes in contact with, it appears that Al is actually sending Touta into his artifact book so that Touta can have a 3rd person perspective of Negi's life.
Seeing Yue, Nodoka, Paru and the others, combined with Asuna's appearance mimicking similar situations in Negima where she's at the top of the stairs in front of the window, really makes me want to get back to the world of Negima. I am planning to reread the Negima manga during the hiatus. However, I hope that Akamatsu-sensei takes some time to give us some PROPER flashback chapters in the monthly UQ Holder series. We don't need the Negima hijinks (a hint of those is fine, as we saw in this chapter).
I would like Touta to get a feel for Negi's life as a teacher and his relationship with his students, especially Eva, Nodoka, Yue, Asuna, Chachamaru, Ayaka, Setsuna, Konoka, Mana, Zazie, and Sayo. I am OK with UQH showing brief flashbacks to things like the Kyoto arc and such, but I would like something more substantive and new to allow Touta to understand Negi more.
Assuming this is the timeline where Asuna goes to sleep and Negi does whatever, I would like to see in depth chapters giving us a good taste of life for Negi without Asuna. I want to see the Ala Alba missions (or rather a good sample of one) with Eva, Fate, Al, Mana, and the others. I want to see where Negi encounters Nagi-MotB and makes his decision. (I also want to learn what happened to Arika. What if MotB took over Arika first before taking over Nagi?)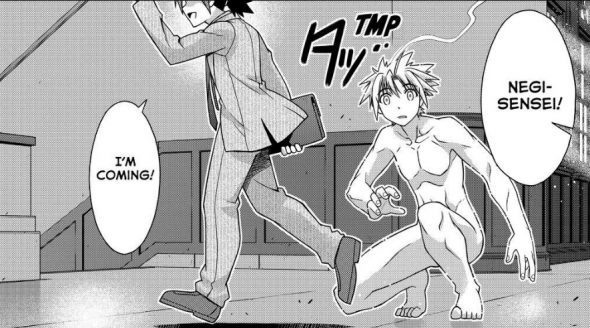 The hiatus is going to suck, but I really hope Akamatsu-sensei uses the time to really map out the "Mahora World" story. Sensei's meandering style for UQ Holder was just not conducive for good storytelling. So if he can map things out AND give us stuff we want (and I eventually want to return and have UQ Holder characters fleshed out), then the monthly UQ Holder can be quite good.
I did notice some art mistakes. Yue's hair gets cut by Eva, but in the group shot before Al sends Touta into the memory realm, Yue has her hair back. Not only that, but although Al had removed Eva's forearm, when Karin catches her after Jack's attack, she has her arm restored. She still has it restored when the members of UQ Holder (plus Honoka and Isana) go into a defensive posture for Eva and Touta. However, in the later group shot, her forearm is gone and smoldering. 😳
Finally, no tournament. BWAH!HA!HA!HA!HA! 😈
In the end, UQ Holder chapter 128 ends the weekly run of the manga on a high note and excellent cliffhanger. If we get spoilers for the monthly series, I'll certainly return to posting them for us all. 🙂