Fate/kaleid liner PRISMA☆ILLYA 3rei!! Episode 04 REVIEW
Fate/kaleid liner プリズマ☆イリヤ 3rei!!
Fate/kaleid liner Prisma Illya 3rei!! 04

SPOILER Summary/Synopsis: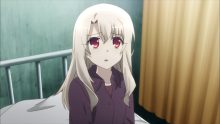 The exhausted Ilya joins Tanaka and Gil before being greeted by Kuro and Bazett. Ilya passes out, waking up in this world's version of her school in the nurse station. Bazett informs her she's aware of what happened, thanks to Tanaka and Gil. Bazett also informs Ilya that this is the base she and Kuro established. Tanaka enters in her underwear, excited to see Ilya. Ilya is surprised that Tanaka's injuries are healed. Gil arrives with a gym outfit for Tanaka to wear. Afterward, Kuro holds a briefing in one of the classrooms to explain that they are in Miyu's world and that the time of their arrival is different.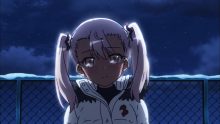 Bazett gives Ilya the Saber, Lancer, and Rider Class Cards to counter the Thor Berserker and Gilgamesh Archer Class Cards owned by Beatrice and Angelica. Gil has Kirei deliver ramen, but he delivers his normal, spicy mapo. Ilya passes on eating and wanders the school, ending up on the roof. Kuro joins her and challenges the depressed Ilya to a fight. Ilya is forced to use her three new Class Cards to defeat Kuro. Kuro reminds Ilya that the feelings Ilya has now of loneliness and fear are what Miyu experienced coming to their world. With that, Kuro deep snogs Ilya a while to recharge. Kuro reassures Ilya in their quest to save Miyu.
Thoughts/Review:
And so we have the ecchi return to the series. 🙄  I really had hoped that based on the first three episodes, the ecchi stuff would just be put on the shelf. After all, this series seems strong enough to me to not need that cheap crap.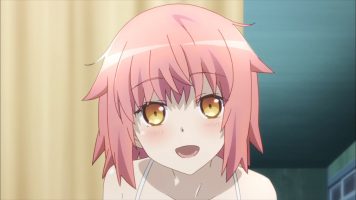 Seriously, I don't like this ecchi stuff. It is pure fap material and in my mind, belongs in a hentai title. At least in a hentai title, you'd get a finish. Here, the excessive ecchi content is like the start of a hentai title that then leaves you blue, if you get my meaning. And for me, it makes me uncomfortable because I'm absolutely not watching Fate/kaleid liner Prisma Illya 3rei!! for ecchi fanservice.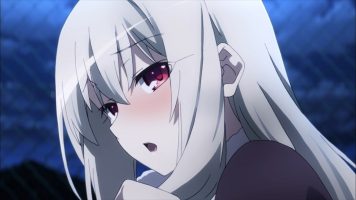 Ranting aside, lets move onto the story and comedy elements.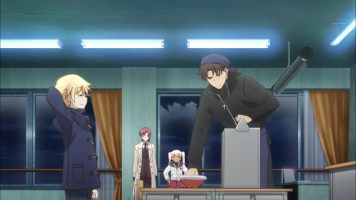 I loved seeing Kuro-sensei. Her exposition provided some much needed information while at the same time delivering some humorous elements. We had Tanaka as the cliched dumb and hungry student sleeping through class. Gil-kun is the cliched student punk who doesn't care about rules or such. Ilya represented the studious student. I'm not sure what Bazett represented, other than to provide comedy for her being too big for the desks.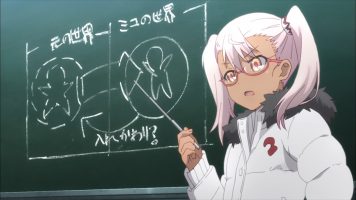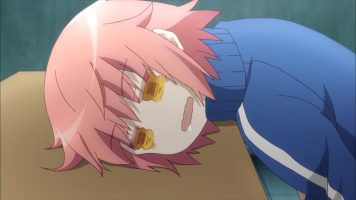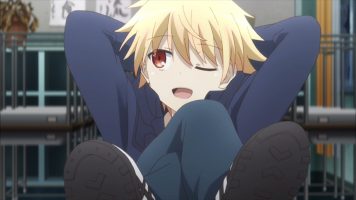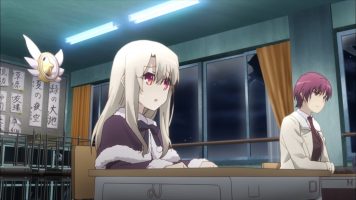 Kuro's briefing confirmed what we already knew — that a chunk of real estate from their world exchanged with Miyu's world. The new element of this equation is that even though Ilya and company were grabbed at the same time, they arrived on this world at different times. As such, it is possible that Rin, Luvia, and Sapphire haven't arrived yet, explaining why we haven't seen them.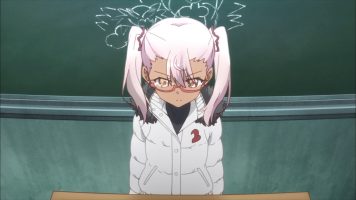 It surprised me when Kuro attacked Ilya. That said, I quickly figured out what Kuro's game was regarding snapping Ilya out of it. In addition, Kuro forcing Ilya to be serious gave Ilya training in using her new Rider, Saber, and Lancer cards. It seems clear that when Ilya installs the card, she knows the identity of the cards in question.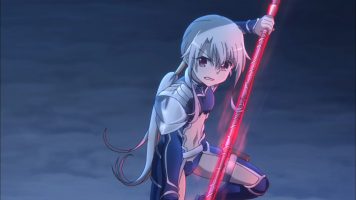 So Ilya has Caster, Rider, Saber, and Lancer for sure. Kuro has the Shirou Archer Class Card. That leaves Assassin and Berserker. Does Ilya have those cards too or did the Ainsworth get them from Miyu?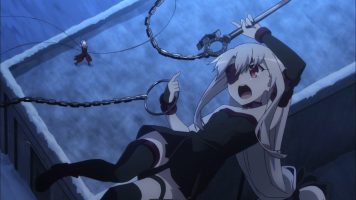 I like seeing Ilya in the different Heroic Spirit costumes. I'd seen some promo artwork showing Ilya as the different classes, so it is nice to see her going through them. And now that she can rapidly switch out installs, Ilya should become a decent fighter. Interesting that Ilya's Saber outfit is different from Miyu's.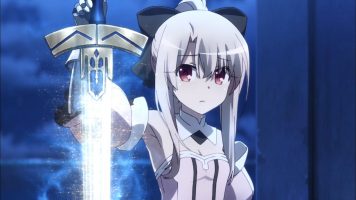 Tanaka is still as mysterious and humorous as ever. We don't know anything about her, other than she's able to take a blow from an insanely powerful Nobel Phantasm liked Mjölnir and only feel pain from it rather than be killed and the body obliterated. She loves food, she loves sleep, she is impervious to cold, and she's stupidly funny.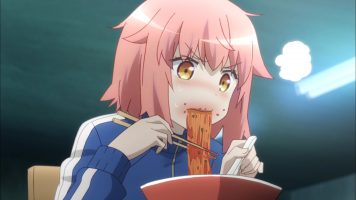 Finally, Bazett had a conversation with Gil regarding the Class Cards. I hate that the writers opted for him to do the, "I'll give you a little bit of information, but the rest I'm not going to tell you, even though it would help you, because reasons." Still, it is interesting to learn that the Ainsworth created the Class Cards to be able to control a portion of the power of a Heroic Spirit without their consent.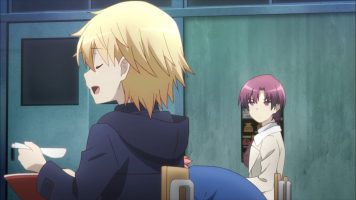 In the end, outside of the nasty, ecchi stuff, Fate/kaleid liner Prisma Illya 3rei!! 04 is a pretty good episode.