Fate/Grand Order: First Order Review

Note: Those looking for the Fate/Grand Order USA game review, click here.
SPOILER Summary/Synopsis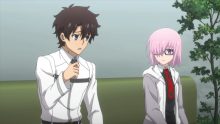 A young man named FUJIMARU Ritsuka is at the Chaldea Security Organization center in a secluded, snowy, mountain facility. He's been chosen as a candidate for the Spiritron Dive to enter a time slip (Rayshift) into the past to fix problems in order to preserve humanity. After passing out in a hall, he's found by Fou-san, a little critter, who gets a pink haired girl named Mash Kyrielight to help. After Ritsuka comes to, he and Mash talk until they are found by Leff (Lev) Lynor, a Mage Engineer who developed the Near-Future Observation Lens called Shiva.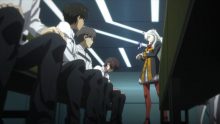 Mash and Ritsuka go to the briefing held by Director Olga Marie Animusphere, who's from a prominent Mage family. Ritsuka falls asleep during the briefing and is kicked out. Mash shows him to his room before leaving to go with the others on the first mission. Ritsuka finds Romani Archaman, a feminine looking medical doctor who's addressed as Dr. Roman. While they chat in Ritsuka's room, an accident happens, killing many of the mission folks, save Mash, who's lower half is crushed by massive debris. As Ritsuka stays with her, the Rayshift process continues, sending the two and Fou-san to Fuyuki City, Japan on January 30, 2004.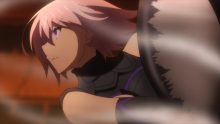 Ritsuka comes to just as Emiya Archer does a remote attack on him. Mash, in Servant gear with a large, weaponized shield, defends him. Emiya Archer is forced to retreat when he comes under attack. Ritsuka and Mash find director Olga under attack from a skeleton army. Since Olga's Magecraft is not enough to defeat so many foes, Mash enters the fight. Olga is not happy with the situation, not knowing about the explosion at Chaldea. Dr. Roman makes contact and breaks the news to her. The 47 potential Masters are in critical condition and being sent to cryo. Now that Mash is a Demi-Servant, having merged with a Servant in exchange for helping investigate Singularity F, Olga has her and Ritsuka, Mash's Master, help.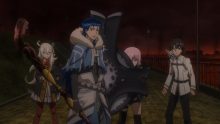 The trio soon encounter Medusa Lancer, who takes sadistic pleasure in turning humans to stone and killing them. Medusa Lancer traps them with her chains, but they are spared when Cú Chulainn Caster arrives to ally himself with them. Initially, Medusa Lancer appears to have the advantage, but Cú Chulainn Caster leads her into a trap where his rune magic, combined with help from Mash, defeats Medusa Lancer. Dr. Roman reestablishes communication, stating that Caster is sane, unlike Lancer.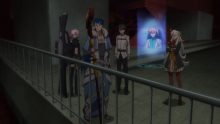 Caster explains that during the last Holy Grail War there was a fire in Fuyuki City, killing the humans while leaving the Servants alive. Saber Alter resumed the Holy Grail War, defeating Archer, Assassin, Lancer, Rider, and Berserker, corrupting them with a dark shadow in the process. With Caster having defeated Rider and Assassin, and with Berserker not fighting, only Archer and Caster remain to be defeated. Since helping Caster will likely resolve the Singularity F issue, Olga agrees to join the fight.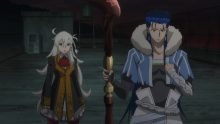 While taking rest in a ruined high school, Mash and Ritsuka have a chat. Caster talks with Olga, revealing that he knows that despite her being a powerful mage, she doesn't have what it takes to be a Master. Sometime later, Caster leads the group to a cave where Saber Alter guards the Holy Grail. Archer attempts to stop them, so Caster holds him off while the trio enter the cavern. Caster gets the fight to the temple on Mt. Enzou, where he ultimately traps and defeats Archer.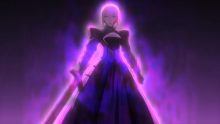 In the cavern, Saber Alter decides to test Mash and her shield. Olga won't let Ritsuka interfere, but when it appears that Mash might be defeated, Ritsuka goes to her. He uses a Command Spell to aide her, allowing her Nobel Phantasm to emerge in the shape of a magic wall that reflects Saber Alter's attack back at her. Saber Alter goes for another attack, but Caster enters the fray. He eventually defeats Saber Alter, who reveals she knows the existence of Grand Order, which shocks Olga. As Saber dissolves into light, Caster also does the same.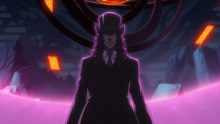 As the trio discuss what has happened, having made verbal contact with Dr. Roman again, Leff shows up. Olga is very happy to see him, but her happiness turns to horror as he reveals he planted the bomb under her seat at Chaldea Security Organization. Ironically, once dead, her soul was able to Rayshif to 2004. However, once she returns, she will be dead. As Leff mocks her, he reveals Chaldea to her. It is like a fireball instead of looking like Earth. To her dismay and horror, Leff draws her into Chaldea to suffer eternal death.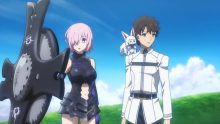 Because of what Saber Alter had done, Leff is forced to leave and close the connection to Chaldea. Somehow, Dr. Roman is able to recall Mash and Ritsuka before the cavern they are in collapses. Ritsuka wakes up in a room at the Chaldea Security Organization center. He follows Fou-san to the ruined Rayshift room where he finds Mash in her human form again. After hugging her, Dr. Roman reveals his presence. There are multiple singularities even worse than the one at Fuyuki City. As such, Ritsuka and Mash agree to be dispatched to resolve these problems and preserve humanity.
Thoughts/Review
I honestly hadn't planned on writing such a massive summary. Once done, I didn't feel like taking the time to edit it down. Still, that should say something positive about Fate/Grand Order: First Order that would cause me to write so much dribble. Either that, or I was caught up in the episode's copious amount of exposition. 😉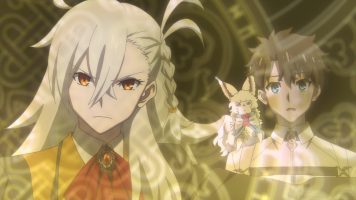 The Exposition
Having watched several Fate/stay night franchise anime titles, I feel I have a decent understanding of the Nasuverse. Combine this with so many excellent fans of the franchise posting highly informational comments for my other Fate reviews, and I think I'm pretty well prepared. At least, that was my thinking until I started watching Fate/Grand Order: First Order.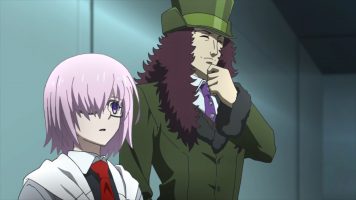 I'm trying to think if there's another anime title, or any other American/British TV show or movie that had this much exposition in it. A staggering amount of exposition has to be laid out from the start of the episode in order to establish the foundation for this anime special. The first fifteen minutes of the episode is mostly exposition, broken up into chunks.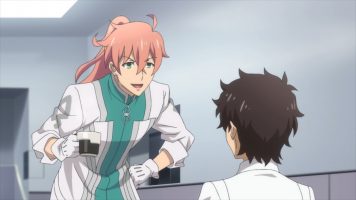 Then throughout the rest of the episode, there has to be more exposition to explain the Holy Grail War, the situation in 2004, etc. Again, all of this is needed, but the episode runs for about an hour and twelve minutes. That means a large percentage of the episode is dedicated to exposition.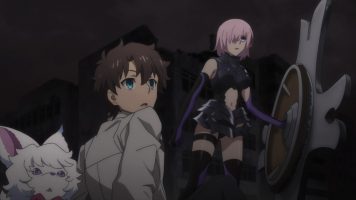 The Main Characters
The main character FUJIMARU Ritsuka is akin to Shirou from Fate/stay night, only worse that Shirou ever dreamed of being. Shirou had a goal in mind of being a hero like his adoptive father and save the world. Ritsuka has no goal. It is as if he got bored one day and signed up for this Chaldea project. He seems to have no real clue why he's there or why he's bothering to go through all this. He's so disinterested, he even sleeps through the initial briefing, a convenient plot device to make him be the last Master candidate.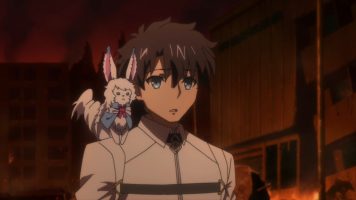 Next up is Mash Kyrielight. She's akin to Sakura from Fate/stay night, but not as good or interesting. I guess Fate/Grand Order needed a female character to say "Senpai" a lot when addressing the male MC. Mash becoming the Demi-Servant Shielder (though I had to look that up since the writers didn't explain that) provided her with minor interest. However, since we know nothing about the Servant she bonded with, nor do we know much of anything about Mash as a character, it is hard to bond with her. She's nice, loyal, etc., but what else is there to her?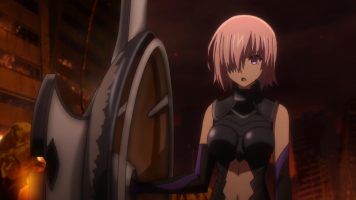 Finally, there's Director Olga Marie Animusphere. Surprisingly, Olga gets the most character development, though it isn't much. She's Rin from Fate/stay night in that she's apparently alone, comes from a powerful mage family (whom I'd never heard of), and is a tsundere. Because she ended up being the most interesting character to me, naturally the writers kill her off at the end of the episode in a horrific way. Should this part of the franchise go on, I hope they find a way to bring her back, even if as a Servant.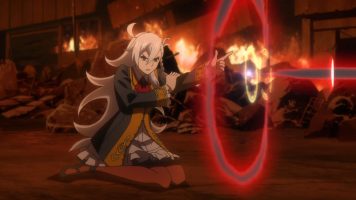 The Story
Even with all of the exposition, the story can be somewhat confusing. For starters, I still am not sure if the anime starts in 2016 or if it is in the future. The Chaldea Security Organization gets an explanation as being dedicated to studying magic and science to preserve humanity and history. So when the plot establishes that the world is going to end in December 2016, it could be that the Chaldea Security Organization detected the Spacial Singularity F from 2004 and determined it would end the world in 2016. Or, they could be in 2016 using future tech.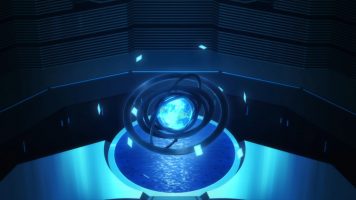 That confusion aside, once the three main characters reach 2004, things become more interesting and less confusing, at least for long time fans of the Fate franchise and Nasuverse. I don't think that Fate/Grand Order: First Order is something someone new to the Fate franchise should jump into. Without the knowledge that at a minimum comes from Fate/stay night, I think that new fans will still have difficulties following the exposition heavy story.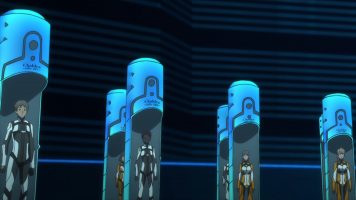 For me, I found the concept interest that even with the power of the Chaldea technology, Olga and the organization had no clue who won the Holy Grail War of 2004. I suppose in some ways, this is a nod to the fact that in Fate/stay night, there were three different routes whereby Shirou, Rin, or Sakura (technically) win the war. Or it might be a nod to Fate/hollow ataraxia, which takes place shortly after Fate/stay night.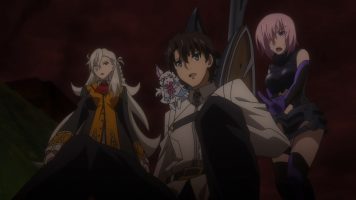 Regardless, having the 2004 Holy Grail War revived by Saber Alter was something that interested me. Unfortunately, I didn't understand Saber Alter's motivation. On one hand, maybe she was doing what the traitor Leff (or Lev, if you go by fan spelling) wanted. I thought Saber Alter was supposed to be evil, but maybe she was lawful evil. I say this because she seemed to still retain her since of nobility. I figured that may have been why Leff was irritated with her once she was defeated.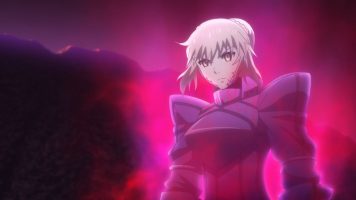 Ultimately, the story is OK, but suffers from the fact that it is compacted to what would amount to three regular length anime episodes rather than a full season (12-13 episodes) anime series.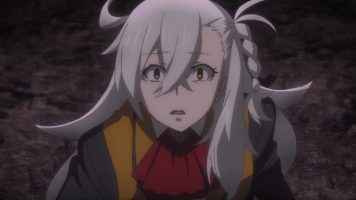 The Servants
The best part of Fate/Grand Order: First Order are the Servants from the original Fate/stay night that appeared. While the two Fate anime adaptations to date don't make this clear, other canon materials do specify that Heroic Spirits can be summoned as different types of Servants. In Fate/stay night, the Medusa is summoned as the Servant Rider. For Fate/Grand Order: First Order, she is summoned (or possibly resummoned) as Lancer. That made her a very interesting character, and certainly much more talkative than we've seen her before.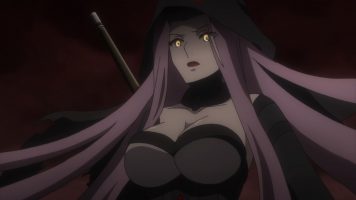 In Fate/stay night, Cú Chulainn is summoned as Lancer. In Fate/Grand Order: First Order, he gets to be Caster. I remember back when knowledgeable fans were explaining to me in comments on the blog for my previous Fate anime reviews (something I am always grateful for) how Cú was actually better suited as Caster than Lancer based on his stats. So I was delighted to see Cú get to be Caster, having seen more of his magic in Fate/stay night: Unlimited Blade Works. I'm glad Cú got to be honorable throughout and not be forced to do evil crap against his will.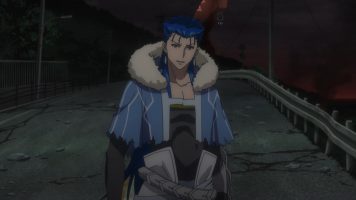 Then there's the dark version of Emiya Archer. I noticed that this version of Archer seemed to be reluctant to go to hand-to-hand combat. I wonder why he didn't kill Caster when he had a chance though.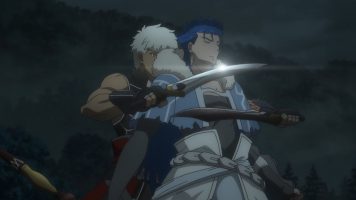 Finally, there's Saber Alter. Unfortunately, it isn't that clear how Saber became Saber Alter. I gathered that Saber Alter battled the other Servants, defeated them, and then caused a dark version of said Servant to work for her. Only Caster escaped this. I understood that Caster previously defeating Rider and Assassin meant we wouldn't see them. However, Dark Berserker remained, so once Caster had defeated Archer and Saber Alter, the Holy Grail War shouldn't have been over. The fact that the war did end made no sense to me.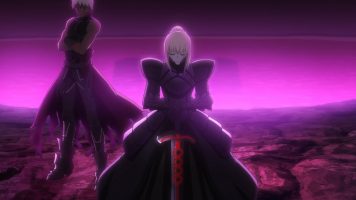 That said, I still loved seeing long time Heroic Spirits take new form.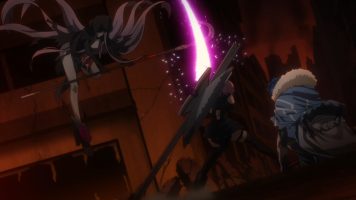 Final Thoughts and Conclusion
Well between being lazy, being sick, and work, I'm WAY behind on publishing this review. So let me wrap up some things.
Boo to Crunchyroll (or to whomever is responsible) for NOT having Japanese honorifics in the subtitles, save Mash addressing Ritsuka as Senpai.
Just for the sake or keeping a record, this episode discussed Chaldeas, Chaldea Security Organization, Spiritron Dive, Rayshift, Spacial Singularity F (Fuyuki City, Japan in 2004), and the Near-Future Observation Lens called Shiva. Did I miss anything?
I wonder what the purpose of having the critter Fou-san around was. I always felt like there could be more to it, but it may have been there just to have a cute critter.
Romani Archaman (Dr. Roman) was mainly used as an exposition piece. I wonder why they made him look so girly.
There were two times in this episode were I found myself reminded of NERV from Neon Genesis Evangelion. First was when Lev and Ritsuka when down the elevator to the underground facility. The second was seeing all of the Coffins for the Master candidates.
Will First Order prompt the creation of addition Grand Order anime adaptions? Or was First Order merely a long advertisement for the Fate/Grand Order mobile game?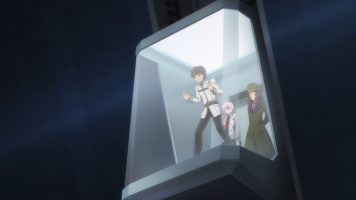 In the end, Fate/Grand Order: First Order suffers from having too much story compressed into too small of a container. As such, characters don't get much development and the amount of exposition could be overwhelming for viewers who are not hardcore fans of the Fate franchise. As someone decently versed in the Nasuverse, I found Fate/Grand Order: First Order to be entertaining on the whole and hope to see a Second Order series/special. I just wish First Order would have been done as a regular TV series.