Fate/Apocrypha 09
フェイト/アポクリファ episode 09
SPOILER Summary/Synopsis
Darnic recalls how during World War II, as a Master and a German army officer, he went to Japan during the Third Holy Grail War and stole the Grail. Meanwhile, Red Caster aids Shirou, who battles Black Berserker. Ruler senses the battle, but can't ID Shirou. In the sky, Black Rider uses a Noble Phantasm to clear a path. However, Red Assassin's mastery of magic sends Black Rider to the ground. At the Yggdmillennia castle, Sieg has freed all of the homunculi and sees Black Rider falling to the ground in the distance. His fellow homunculi tell him to go help.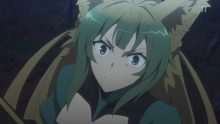 Meanwhile, Black Lancer and Red Lancer are battling when Red Berserker comes in to attack Red Lancer. Red Lancer is not offended by this, considering it to be Spartacus being a rebel. Red Archer attacks Red Berserker, but even her Noble Phantasm won't stop Red Berserker from regenerating. Elsewhere, Black Archer and Red Rider continue their fight. On the main battlefield, Red Saber and Sisigou finally arrive, right at Black Rider's location. Sisigou bails to leave Black Rider to Red Saber. Red Assassin attempts to trap Ruler, who easily breaks free of the bonds and confirms that the Red Faction is trying to kill her.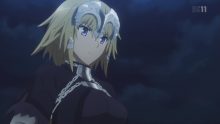 Ruler has another vision of Shirou battling Black Berserker, so she goes off to find him. Red Assassin notifies Shirou, so he and Red Caster can bail. However, Black Berserker begins to unexpectedly pursue, so Shirou orders Red Caster to stop her. Red Caster uses his Noble Phantasm to make Black Berserker recall her creation by Dr. Frankenstein, complete with his horror and the beating he gave her. Black Berserker beats the image of Dr. Frankenstein, which is merely a life-sized wooden doll. Caules is forced to use a Command Spell to calm her rage.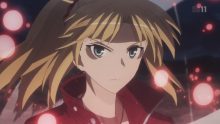 Ruler is in hot pursuit of Shirou, so Red Assassin uses magecraft on par of an actual mage. Red Assassin think's she's nailed Ruler, but Ruler not only lives, but tells Red Assassin that even that much power can't stop Ruler. Elsewhere, Red Saber casually Black Rider. She asks Black Rider about Black Saber's death and mocks him for dying for a silly reason. Black Rider is enraged by this, so Red Saber decides to get serious and actually don her full armor. Red Saber easily bests Black Rider, but before she can deliver the final blow, Sieg arrives to challenge Red Saber and save Black Rider's life.
Thoughts/Review
The war continues with Fate/Apocrypha 09, though without the enemy armies all around. Shirou and Darnic appear to have their own plans for this war, as does Sieg.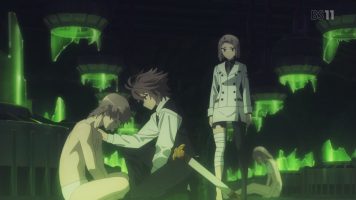 Black Berserker
One of the interesting things to come out of Fate/Apocrypha 09 is some of Black Berserker's history. Thanks to Red Caster's Noble Phantasm (which is interesting since it isn't the normal battle NP), we were able to see how Dr. Frankenstein rejected his female creation, who merely wanted to be loved. I liked the silent movie approach to telling the flashback. It helped keep Black Berserker's lack of speech intact. I also think it helped increase the tragedy of what befell her in the past. In a weird way, it makes her Master, Caules, the perfect one for her as he genuinely cares for her.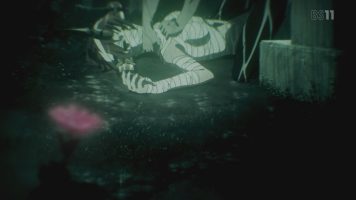 It is a shame Caules had to burn a Command Spell to calm her down. But he did and I'm glad we didn't see Fran-chan die just yet. Well, her death needs to be more melodramatic to bring on the tears, is what I'm thinking.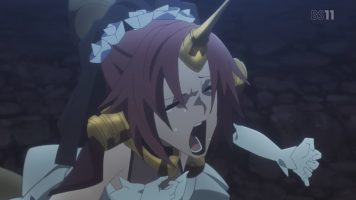 As an aside, Red Caster is just as worthless here for combat as he is in the Fate/Grand Order game. 😛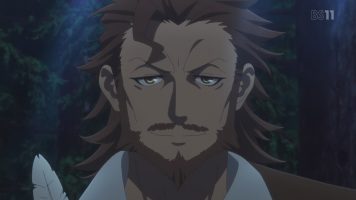 Red Berserker and Red Archer
When Red Berserker showed up to attack Red Lancer, I figured this would be how Black Lancer finally overcomes Red Lancer. Red Berserker is pretty worthless in this anime (much the same as in Fate/Grand Order), but the fact that he continues to regenerate is a twist. I'm wondering if Black Caster had something to do with that. Either way, he should have been slain by Red Archer's Noble Phantasm, but survived that as well.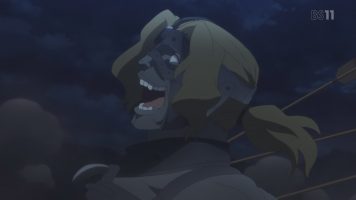 Red Archer is doing what an archer should do — provide support. While Black Archer is in a personal battle with Red Rider, Red Archer is lending a hand where she can in support. So while the Black Faction may have planned for Red Berserker to help defeat Red Lancer, Red Archer pulled him off that mission, allowing Red Lancer to battle Black Lancer unmolested.  And now Red Archer has orders from Shirou to have Red Berserker take care of Ruler. That'll be a laugh.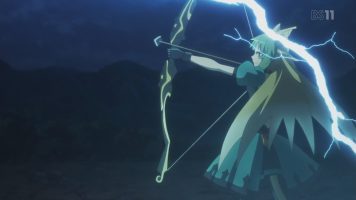 Ruler, Shiro, and Red Assassin
Since I have a weakness for Ruler, thanks to Fate/Grand Order, her role in this story has been of interest to me. Shirou is a mystery to her and to us in the audience, as outside of Sisigou, he appears to be the only Red Master. And he has a sword that's as powerful as any Servant's Noble Phantasm. Shirou was easily able to handle Black Berserker, but I did note that he had Red Caster on standby, just in case. The question is, why does he want Ruler dead? As Ruler pondered, it made no sense to kill her, though it would make sense to do what the Black Faction did in trying to enlist her help.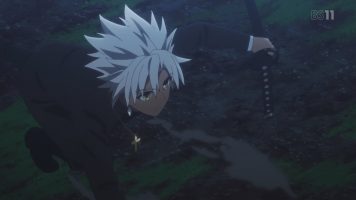 Red Assassin has to be the most powerful assassin ever. She's more like a Caster than an Assassin. It is a shame she's not in Fate/Grand Order, but that's another matter. I did enjoy her attempts to take Ruler out, mainly because I know that Ruler has a Noble Phantasm that makes her (and in Fate/Grand Order, her party) invulnerable. And then Ruler's frank remark back to Red Assassin after the failed attack made it more enjoyable for me. Red Assassin may be awesome, but Ruler is a tad more awesome for me. 😉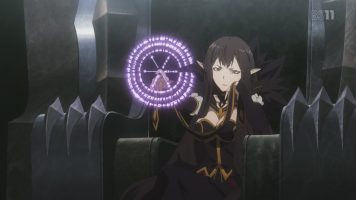 That said, it looks like Ruler is going to have to battle Red Berserker since Shirou has ordered Red Archer to lead Red Berserker to Ruler. I'd love to see Ruler put Red Berserker down for good.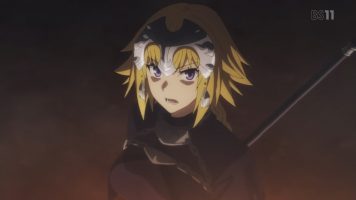 Red Saber vs. Black Rider (and Sieg)
Once again, the only bit of comic relief came from Red Saber and Sisigou. I laughed out loud at Red Saber's casual attitude when emerging from the car and seeing Black Rider. Upon seeing an enemy Servant, one would think Red Saber would immediately get ready for combat. Instead, she just waves at Black Rider, then after examining the feminine male Servant, Red Saber insults him as not looking that strong. That made me laugh. Then Red Saber gets annoyed that her Master wants to bail and not witness her victory over Black Rider.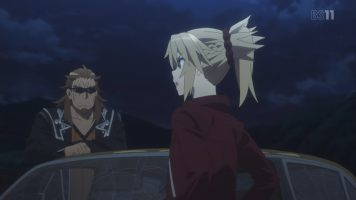 As for Black Rider, I kinda feel bad for him. Although Black Rider's Noble Phantasm blew away an army of winged creatures, it seems pretty clear that he's no match for Red Saber. She was obviously toying with him by not even armoring up for the first part of their fight. She only armoring up after Black Rider decided to defend Black Saber's honor from Red Saber's mocking. And were it not for Sieg, I think Red Saber would have dispatched Black Rider.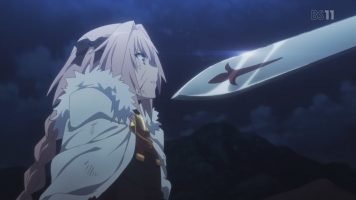 Sieg is certainly a wild card here. He now has an army of brother and sister homunculi that he's freed. Assuming the Black Faction doesn't have some some "kill switch" on their creations (which seems unlikely), what's his game plan in challenging Red Saber? Sieg has one of Black Rider's swords, and he does have the heart of a Black Saber (somehow), but I can't imagine him lasting more than two seconds against Red Saber, and that's being generous.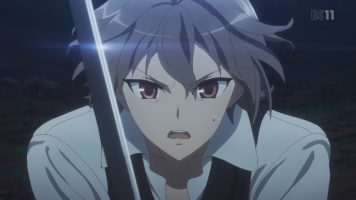 Final Thoughts and Conclusion
OK, I need to wrap up this review of Fate/Apocrypha 09.
I was just thinking; Ruler is looking for any Red Master while she tracks Shirou. Sisigou is out and about. I kinda hope they run into each other.
I can't help but notice how A-1 Production is cleverly using their budget on fights. For example, we didn't see Red Saber and Black Rider do more than lock blades and push while talking. Yet because of what we've seen of the two before, the unseen outcome is believable.
I liked seeing the cameo by that scum MATOU Zouken, who apparently was defeated by Darnic in World War II.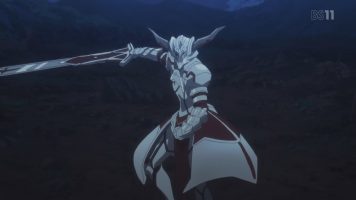 In the end, Fate/Apocrypha 09 is interesting for what it is. I'm rather curious to see what Darnic and Shirou have planned.