Fate/EXTRA Last Encore 11
SPOILER Summary/Synopsis:
On the Moon Mile Ladder (elevator), Rin brings up research on the Master of the Seventh Tier, Leonardo Bistario Harwey. Hakuno has a flashback of his female self on his previous battle on this tier. Rin confirms that Hakuno defeated Leo, but the result was Twice Pieceman causing devastation for 1000 years.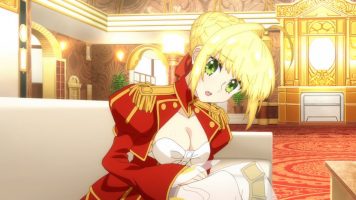 Upon arriving on the Seventh Tier, the party is surprised to find this floor have such well tended gardens. They soon encounter Gawain, Leo's Saber Servant. However, he reveals the damage from his last fight with Nero-Saber. It leaves him in no condition to fight. He invites them for tea and tells them that though Leo was defeated, Twice saved him and brought him to Twice's way of thinking regarding humanity.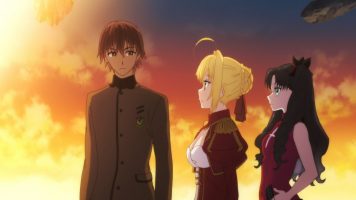 Nero gets permission to pick a white rose. The group then head up to where Leo is entombed. Nero makes a quick stop where the female Hakuno was defeated. There, she leaves the white rose. They continue their ascent and discuss things. Hakuno promises Nero that he will reset Moon Cell, the supercomputer that has become corrupted. That way humanity can be restored.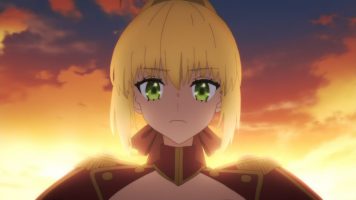 At the top of the mountain, Gawain walks through the barrier protecting Leo's coffin. He removes his sword form the coffin and Leo emerges. After learning Hakuno's identity, Leo informs him that a dead man will not be able to change his mind. Further, because Hakuno is not human, he cannot restore Moon Cell as Moon Cell will purge him as errant data.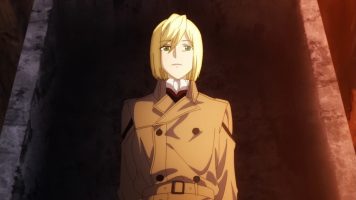 Leo causes Gawain to be restored to battle Nero. She is not able to make headway against him. Meanwhile, Hakuno is defeated by Leo. As such, Leo has Gawain unleash his Nobel Phantasm on Nero. She defends against it, but is basted down along with Hakuno and Rin. Leo notes that Chakravartin, the circle pattern in the sky, will complete its work of ending Moon Cell in hours.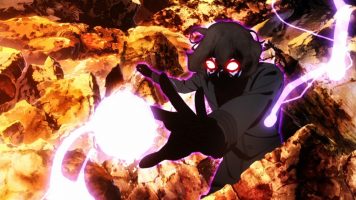 Thoughts/Review:
As I recall back in April 2018, Fate/EXTRA Last Encore 11 was heavily delayed for some reason. As such, when I finished blogging about episode 10, I kinda forgot about episode 11. But since the bloody Fate/Grand Order game is promoting the physical release of the series on DVD, I figured maybe I should go back and finish the final three episodes.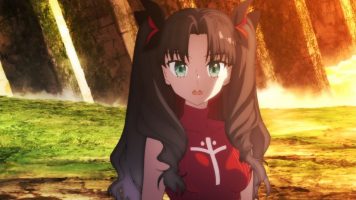 Still a Confusing Mess
One thing that I was quickly reminded of in Fate/EXTRA Last Encore 11 is what a confusing mess the series is. You really have to know your lore to slog through this. I had to get a crash refresher just to get back up to speed.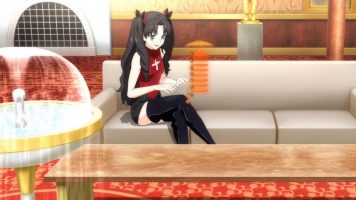 I sometimes wonder if this series would have been better in the hands of another studio. But maybe SHAFT did the best it could. The source game material may have been this dense as well.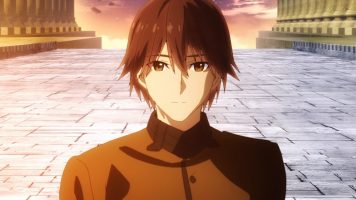 Gawain
It is interesting seeing Gawain here. He's in the Fate/Grand Order game. In addition, he'll be in the FGO movie coming out in 2020.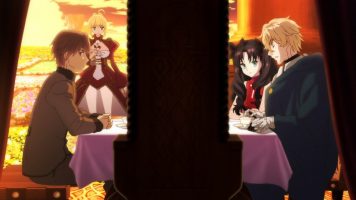 That aside, it is always one of the "bummer" elements in the Fate franchise that Servants have to become enemies. Clearly Gawain is honorable to the extreme. However, since he's contracted to Leo, he has no real choice but to battle Nero and attempt to wipe her out.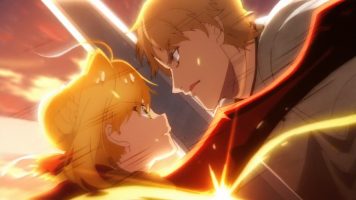 Of course, I don't believe for a moment that Hakuno, Rin, or Nero-Saber are dead. And I rather suspect that Gawain may end up helping them defeat Twice.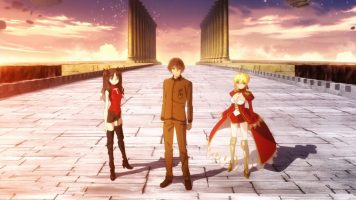 Final Thoughts and Conclusion
In the end, Fate/EXTRA Last Encore 11 is still very lore heavy and thus somewhat confusing. However, I did find myself interested in things and look forward to seeing how the story is resolved.