Fate/EXTRA Last Encore 13
SPOILER Summary/Synopsis:
Twice Pieceman recalls his life as a child in a war-torn region. Then as an adult in 1999, he died in a bioterrorist incident. Sometime later, he was recreated by SE.RA.PH as an NPC. He retained his knowledge and ego and thus entered the Lunar Grail War as a Master. After hundreds of tries, he eventually reached Angelica Cage within Moon Cell. But as an NPC, he could not obtain the Grail. He further explains to female Hakuno and Saber-Nero why he believes continuing humanity is a mistake. She rejects his arguments.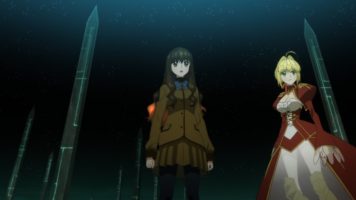 In the present, Twice observes male Hakuno, Saber-Nero, Rin, and Leo arrive. They are surprised to see Twice is a Dead Face like Hakuno. Rin goes into Lancer form, but neither she nor Nero's attacks phase Twice. He acknowledges Hakuno's pointless efforts. Nero demands to know where Twice's Servant is. Twice responds that his Servant has left but left his Nobel Phantasm Chakravartin to do its work.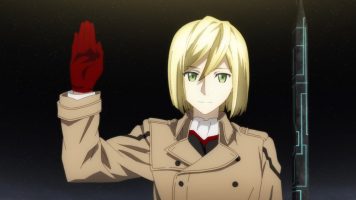 Twice starts blathering, but Hakuno has no interest in listening to Twice since his goal is to restore Moon Cell. Hakuno knows why Twice is so intent on destroying Moon Cell–he hasn't been able to destroy humanity for 1000 years. Twice has Chakravartin attack, but Leo raises a barrier. The group come up with a plan to reach Moon Cell's core. Leo confronts Twice. He resummons Saber Gawain, who unleashes his NP at Twice. This allows the opening for the others, but at the cost of Gawain's and Leo's life.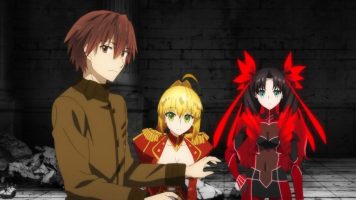 Nero has Hakuno use his last Command Spell on her so she can stop Chakravartin. Despite taking damaging attacks, she does her thing. Nero is sad her Master isn't there, but is pleasantly shocked to see Hakuno arrive. He sent Rin on to Moon Cell as the true winner of the Holy Grail War. This allowed him to keep his promise to grant her wish of not dying alone. Before she dies, she hands her sword to him.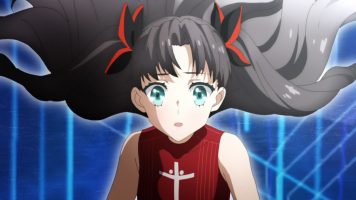 Twice is unable to stop Hakuno from joining Rin at Moon Cell. She's waiting for him. He goes on to sacrifice himself, restore Moon Cell, and have a wish granted. This leaves Rin on a newly restored world.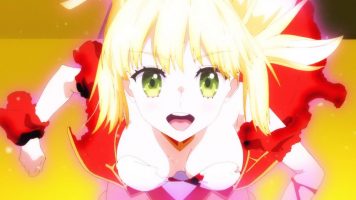 Thoughts/Review:
And so Fate/EXTRA Last Encore 13 comes to an end, resolving things, but not in a great way to me.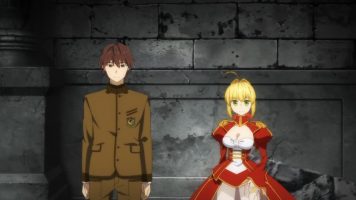 Twice Boreman
A great deal of Fate/EXTRA Last Encore 13 was dedicated to giving us Twice Piecemans's history. Unfortunately, it was boring and cliched. Since he was a child in 1970, combined with the Asian war element, I guess Twice was supposed to be Vietnamese or something. It certainly seemed like Americans were attacking and bombing in jungle areas.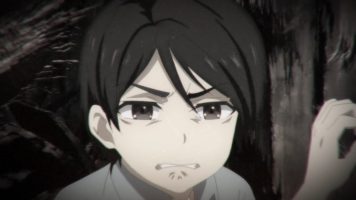 The writers try to make Twice better by turning him into some sort of medic-scientist. Frankly, I didn't care. The main problem is that the series waits to do a character backstory until the last episode. This info-dump provides a lot of material regarding Twice, but no heart.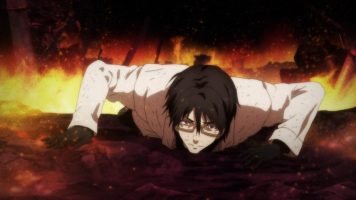 Twice's whole, "humanity sucks" motivation was boring. Basically, he was pissed off because his ideology was wrong. As such, his scorched earth policy made me roll my eyes, more so since it took 1000 years to be implemented.
Saver-class Servant
I don't think we ever learned the name of Twice's Servant, nor its class over the course of Fate/EXTRA Last Encore. That really annoyed me. Apparently, Twice had two Servants. The first was a Caster. And despite only being an NPC, Moon Cell granted Twice another Servant after losing Caster (and his NPC life). It isn't the same as Hakuno, who was reborn and got his original Servant back.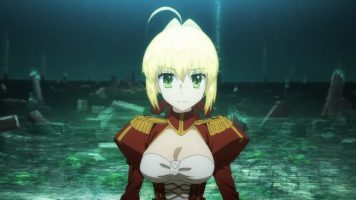 Twice gets a unique Servant class known as Saver. And the true name of Twice's Saver Servants is Buddha. Seriously. So the OP entity we saw in episode 1 was Buddha. I really wish things had been written better to explain this.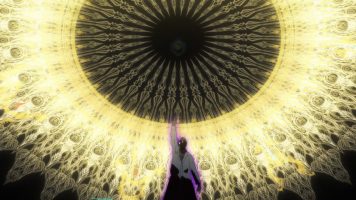 Noble Phantasm
One thing a game like Fate/Grand Order gives the false impression of is Noble Phantasms.  In the FGO game, an NP is merely an ultimate attack. But as we see in Fate/EXTRA Last Encore 13, it can be so much more. For example, we see Saber Gawain's NP used to attack another Servant's NP.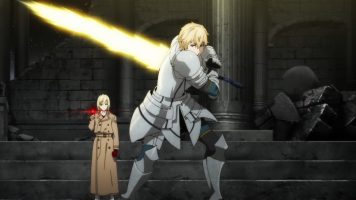 The bigger example is Saver's Noble Phantasm. He uses his Chakravartin NP, but it hangs around for 1000 years. Not only that, but Saver just goes away while his NP carries on alone. It is just a weird thing to me, but it is the nature of the beast. However, why it took 1000 years before Saver's NP could do anything is another question that's not answered.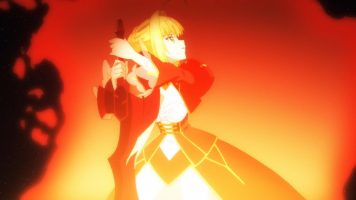 A Meh Ending
Sadly, the ending of Fate/EXTRA Last Encore 13 was pretty much what I expected–meh. There's a whole, forced dramatic element between Saber-Nero and Hakuno. Had the story been crafted better, this ending moment would have meant more. But alas, it felt more like a way to try to jerk tears out of me.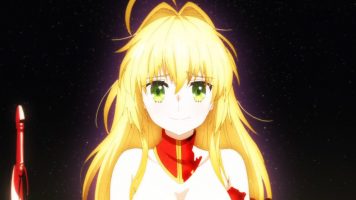 The ending is also a bit bizarre. Hakuno sends Rin ahead to Moon Cell to do the needful. But then for some reason, she's hanging out waiting for him. And it seems as if the reason for Rin waiting is just so Hakuno can heroically sacrifice himself.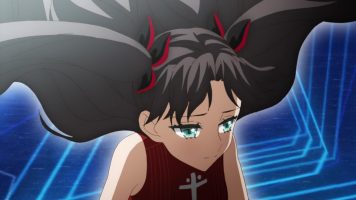 Finally, where was Rin after the end credits? I get that Hakuno reached Moon Cell and reset everything. So it seems the SE.RA.PH game tiers were reset. But what about Earth? What about other people? Everyone is dead on a renewed virtual world.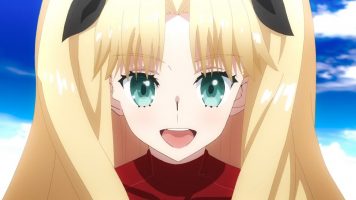 Final Thoughts and Conclusion
In the end, Fate/EXTRA Last Encore 13 ends a rather whacked Fate series in its normal fashion. It spews a ton of dialog, but ends up not saying much. I'll write a full review later.